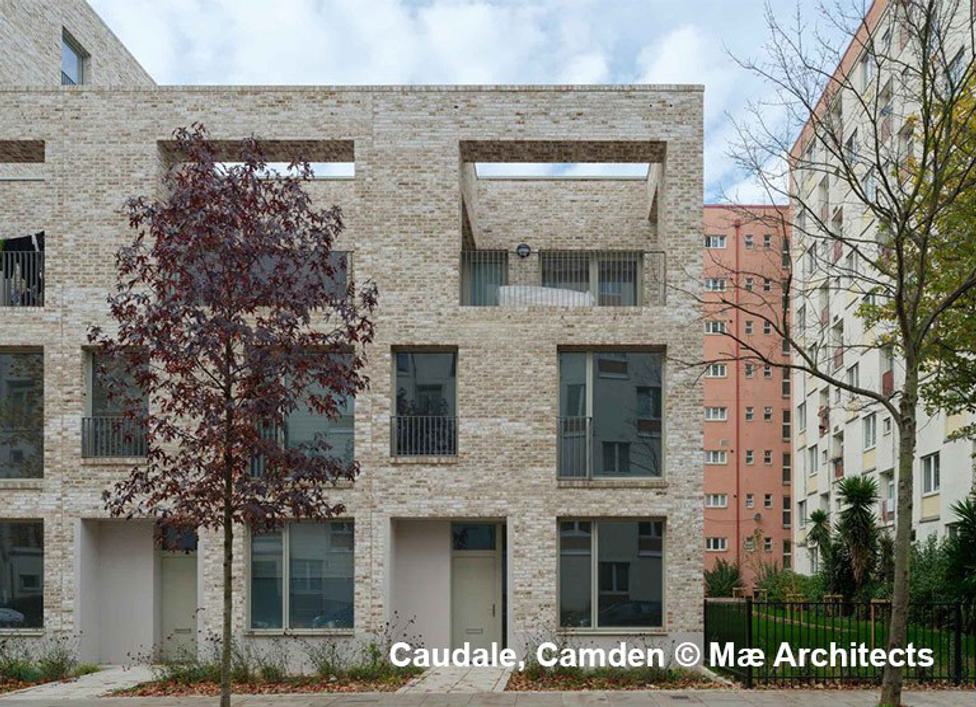 Congratulations to all those involved in the buildings shortlisted for the RIBA London and Regional Awards 2020!
Tibbalds are delighted to have contributed to the success of two of the shortlisted projects:
Caudale Housing, which is part of the Regent's Park Infill Sites scheme in Camden by Mae Architects. Caudale comprises townhouses, apartments and a new public garden for families who are due to lose their homes as part of the development of the High Speed 2 (HS2) railway network.

Lizzie Le Mare, Associate Director at Tibbalds said "The Caudale building is one of a number of new buildings on the Regent's Park Estate that formed part of a wider masterplan. The multi-disciplinary team led by Tibbalds worked collaboratively to develop exciting and innovative designs, that not only provide new homes, but improve the existing streets and spaces for new and old residents."
Belle Vue by Morris + Company and ArchitecturePLB; a prestigious retirement community in Hampstead. Belle Vue comprises modern apartments for those over the age of 60 and communal facilities, all set within landscaped courts and gardens.
Jennifer Ross, Consultant at Tibbalds said "This building evolved out of a positive and proactive planning and design process involving officers from Camden Council, Morris & Co, Tibbalds and the Applicants. Every aspect of the project was developed and interrogated with officers from the building's siting and massing though to the design of internal spaces and selection of materials. As a result the process delivered a building of exceptional quality and one that makes a positive contribution to its setting."
At Tibbalds we pride ourselves on taking a design-led approach to development planning, helping architects and clients to find solutions rather than quoting the rule book at them. Our approach is rooted in good urban design practice and we have an instinct for finding win-win solutions through collaboration and positive negotiation.
The shortlisted schemes demonstrate the power of good design to unlock development, creating great buildings and people-friendly places. Best of luck to all for the next round of judging!
Winners of the RIBA London Awards 2020 will be announced later in the year.
Related Updates
Stay In Touch
Sign up to our Newsletter
Subscribe to our newsletter to receive updates about making people friendly places.