Featured Case Study:
Bourne Estate Regeneration
Using yesterday to inspire today and transform tomorrow
At the Bourne Estate in Central London the Tibbalds team have delivered a project that improves the standard of living for existing and new residents, creating new affordable and market homes and a restored sense of community spirit. This project demonstrates the value of strong and design led project leadership, proactive planning and well considered urban design expertise.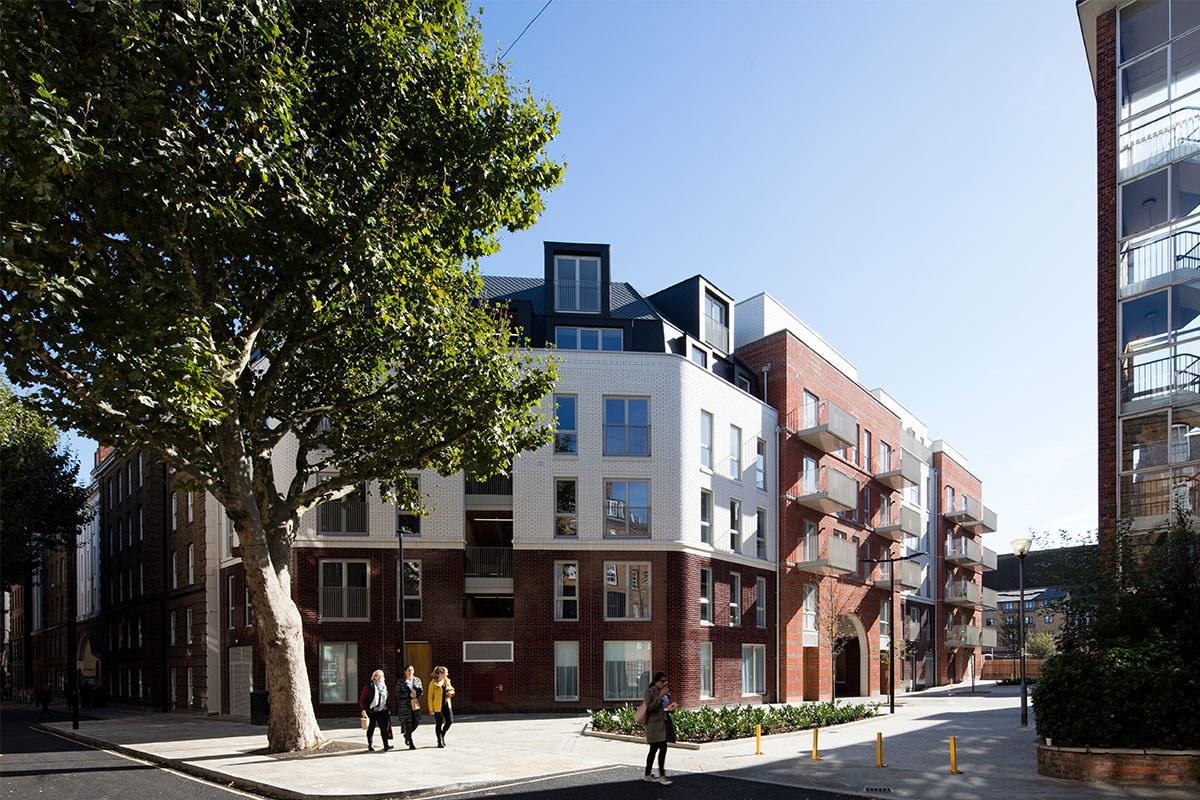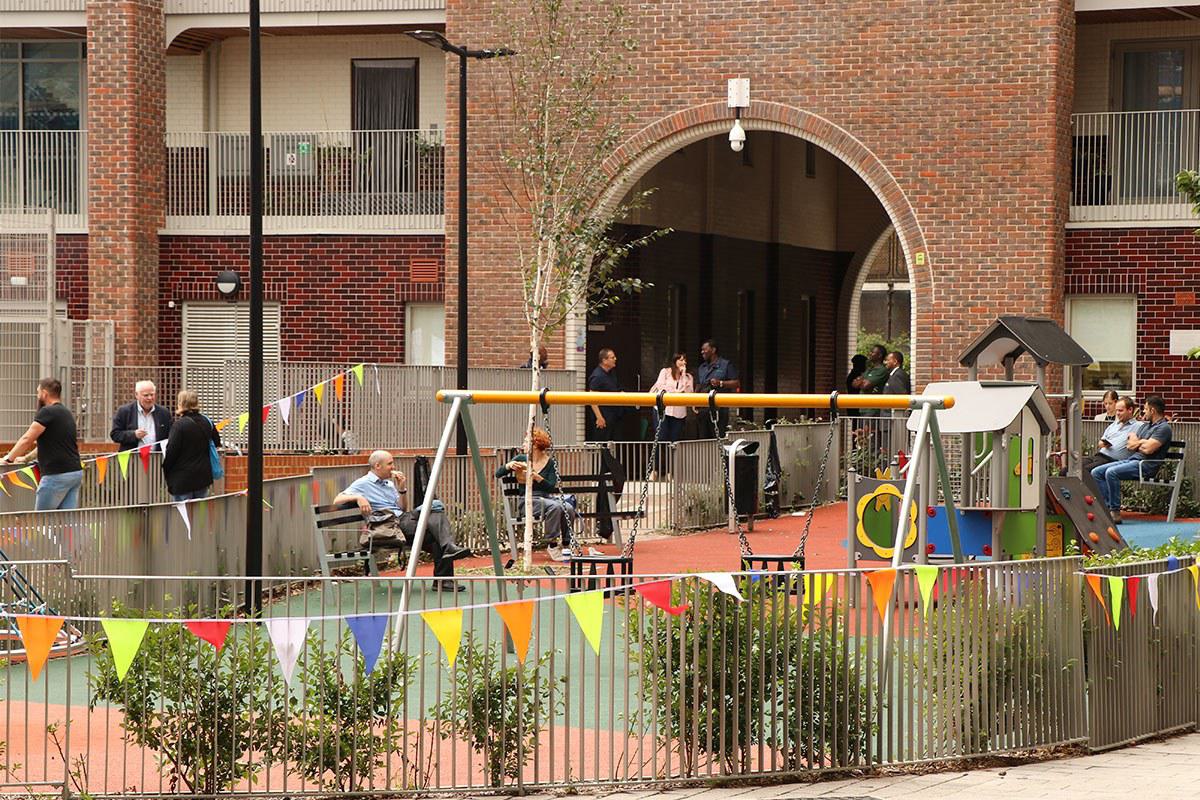 Project Deliverables

75 new mixed tenure homes

Client

London Borough of Camden

Collaborators

Matthew Lloyd Architects, Dally Henderson Landscape Architects, Campbell Reith Engineers, TGA Consulting Engineers, CPC Project Services, and others

Location

Leather Lane EC1, Holborn

Status

Completed April 2018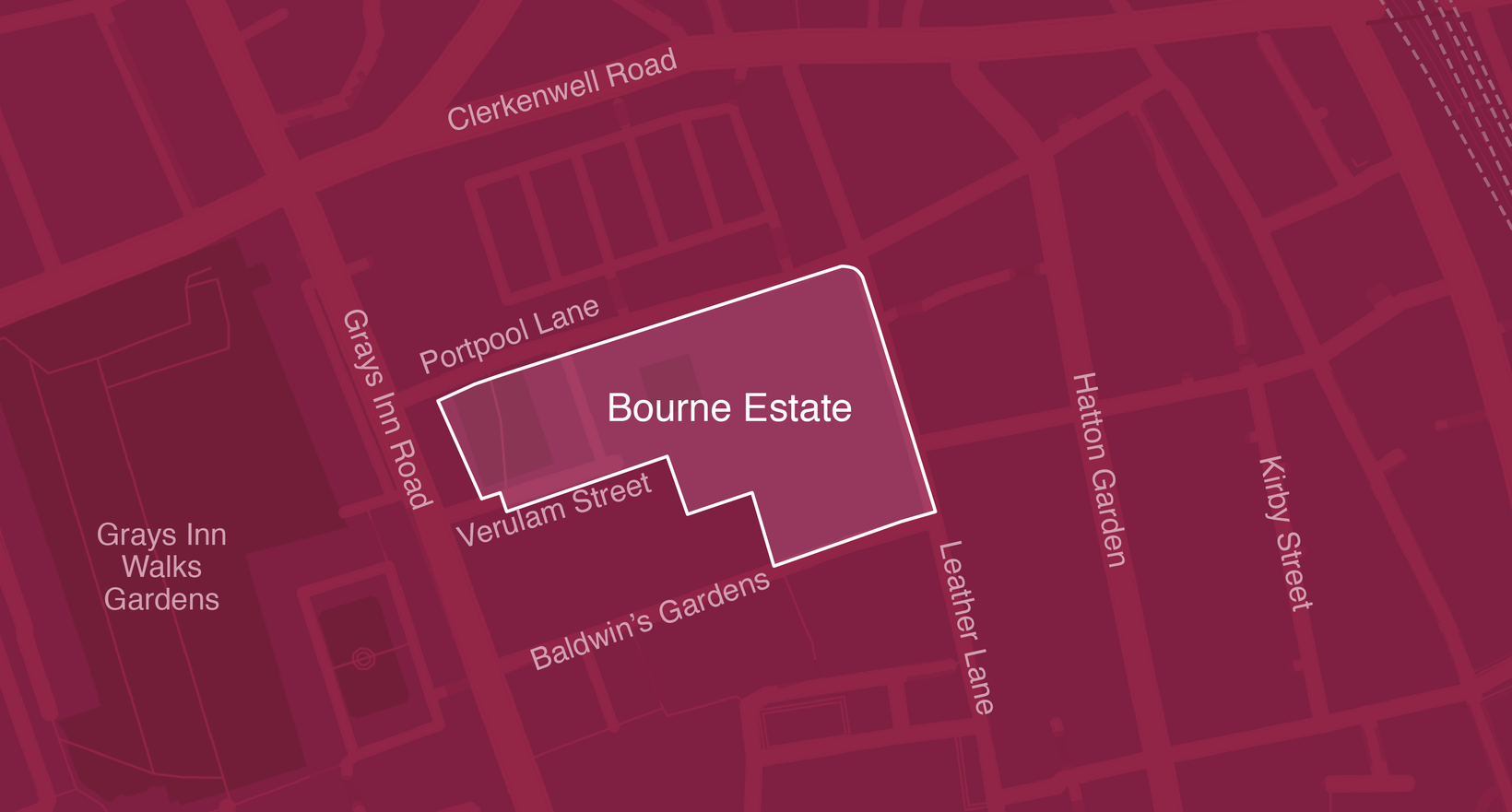 We seized the chance to employ our expertise in urban design, planning, project leadership and heritage to create homes fit for a passionate community in one of London's most colourful boroughs.
The Opportunity
The Grade II listed Bourne Estate has been home to generations of Holborn residents since its original completion in 1907. Two additional post-war blocks and a Tenant and Residents' hall, along with a programme of landscaping improvements in the 1970s saw the footprint of the estate spread south down to Baldwin's Gardens. And while there was a strong sense of pride in the estate amongst those who lived there, lack of investment in some of the later buildings in recent decades had seen these blocks begin to be less attractive and more isolated. Under-used and poorly overlooked public spaces in the south of the estate were allowing for instances of anti-social behaviour to arise.
In 2012 The London Borough of Camden (LBC) identified the newer, southern part of the estate as a place that could benefit from improvements as part of its Community Investment Programme (CIP). A 15-year plan to invest money in schools, homes and community facilities. Appointed as lead consultants – employing, leading and managing the wider project team – we seized the chance to employ our expertise in urban design, planning and project leadership, to create homes fit for a passionate community in one of London's most colourful boroughs.

---
Our Response
From feasibility, through scheme design, and planning to delivery, we worked closely with LBC to drive the regeneration of the estate forward. With the ultimate ambition to significantly enhance the standard of living, we placed high quality design at the heart of the scheme. Taking time to really understand the Bourne Estate's architectural heritage, use of space, and the needs of its residents, to inform a broad master planning strategy. Before defining a solid brief, used to appoint the wider design team who would help bring our vision to life – through new and replacement affordable housing, new community facilities and a much improved public realm.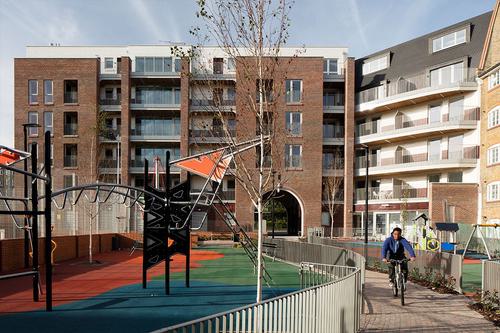 ---
Hear about the success of this scheme from some of our collaborators and residents.
Video produced by Richard Mullane, Living Projects, on behalf of Design for Homes.


---
Preserving a unique character
The majority of Bourne's issues arose from the design of its most recent additions. In particular Mawson House, which felt at odds with the grain of the original estate. The brief for proposals focused on extending the ambition of the historic plans – demolishing Mawson House and replacing it with two new blocks to complete the perimeter ensuring the spaces feel 'owned' by residents and are well cared for. While the beautiful architectural features of the surrounding listed buildings, provided inspiration for the new design details.
Two elegant new arches, one through each of the new blocks, echo those already in place. A key feature used to frame the external walk-through and as a focal point to group shared spaces – these encourage movement through and within the estate.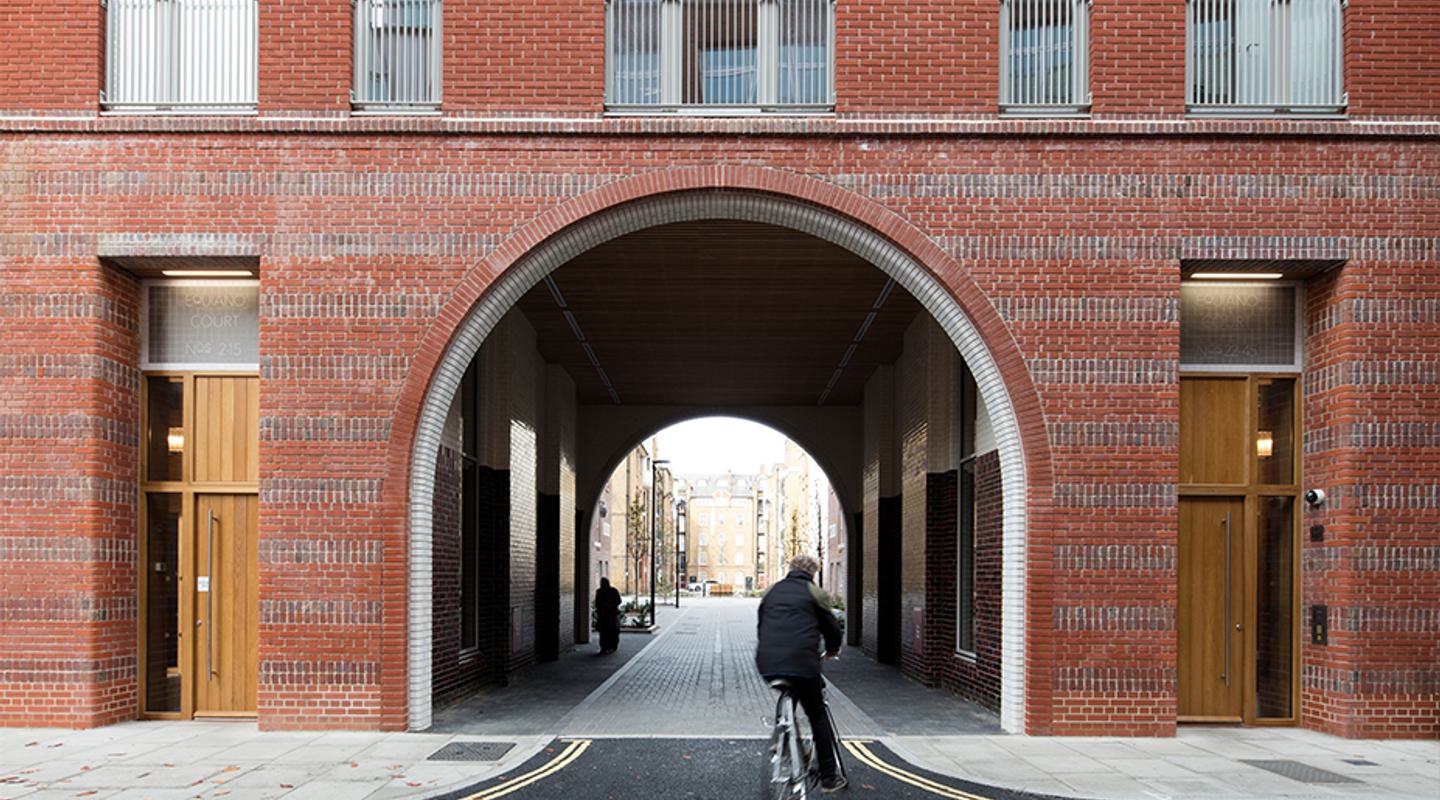 ---
Recreated in a contemporary way
Another defining design characteristic of the estate is its distinctive brickwork. Continuing this theme, blocks of strong colours are used to draw attention to the new constructions and signal shared access points, while sitting comfortably with the surrounding buildings.
The original tiled building names are recreated in a contemporary way across communal and individual entrances. A special touch that sums up the overall care and attention put in to creating a development of the highest architectural standards.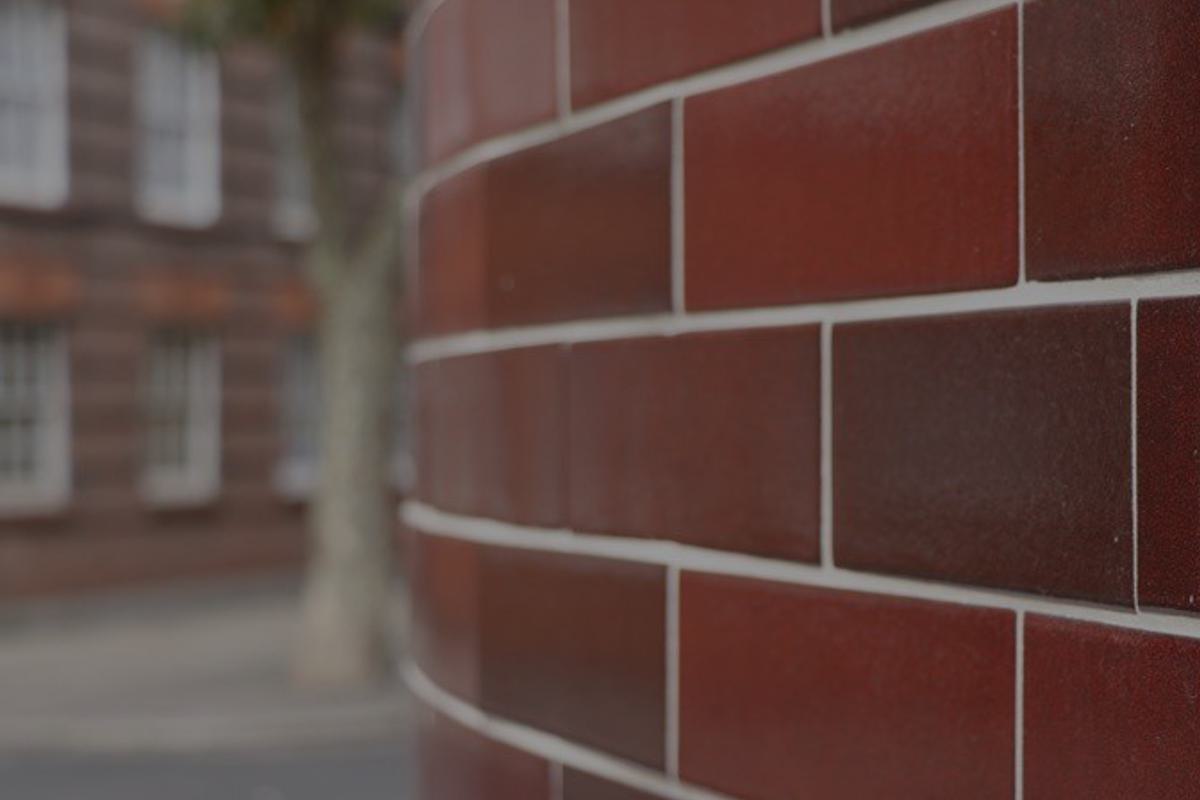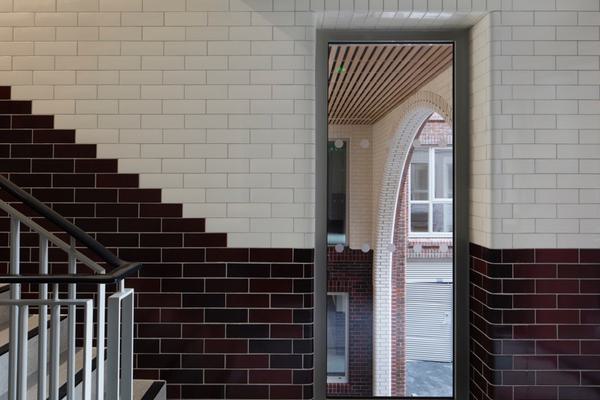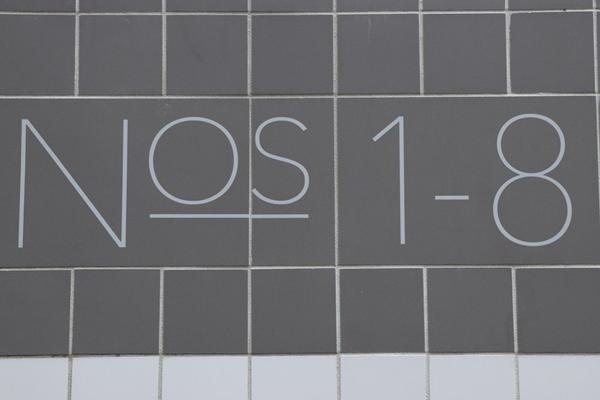 ---
Fostering community spirit
A vital part of the planning process, was taking time to really get to know the people who lived on the estate – what they liked about it and why, as well as their concerns and hopes for the future. Very much from the start residents and the surrounding community were very much part of the emerging proposals. Leading to a smooth planning application process, with only a handful of minor objections.
Collaboration was key throughout the entire life of the project. We invested in developing residents' understanding of the process, so that they could assist with the interviews of architects and landscape architects – who were shortlisted, then selected following a wider community exhibition. As a result, the Tenant and Residents' Association (TRA) became very influential in the design of the development. In one remarkable piece of public consultation, a resident suggested an entire block was moved within the plan – and we agreed!
This sense of community is strengthened by the inclusion of new social spaces that encourage people to come outside of their homes, meet and play. A multi-use games area is overlooked by flats providing great natural surveillance, along with shared balconies, a larger community hall to replace the old TRA hall, and pedestrian friendly courtyards and walkways.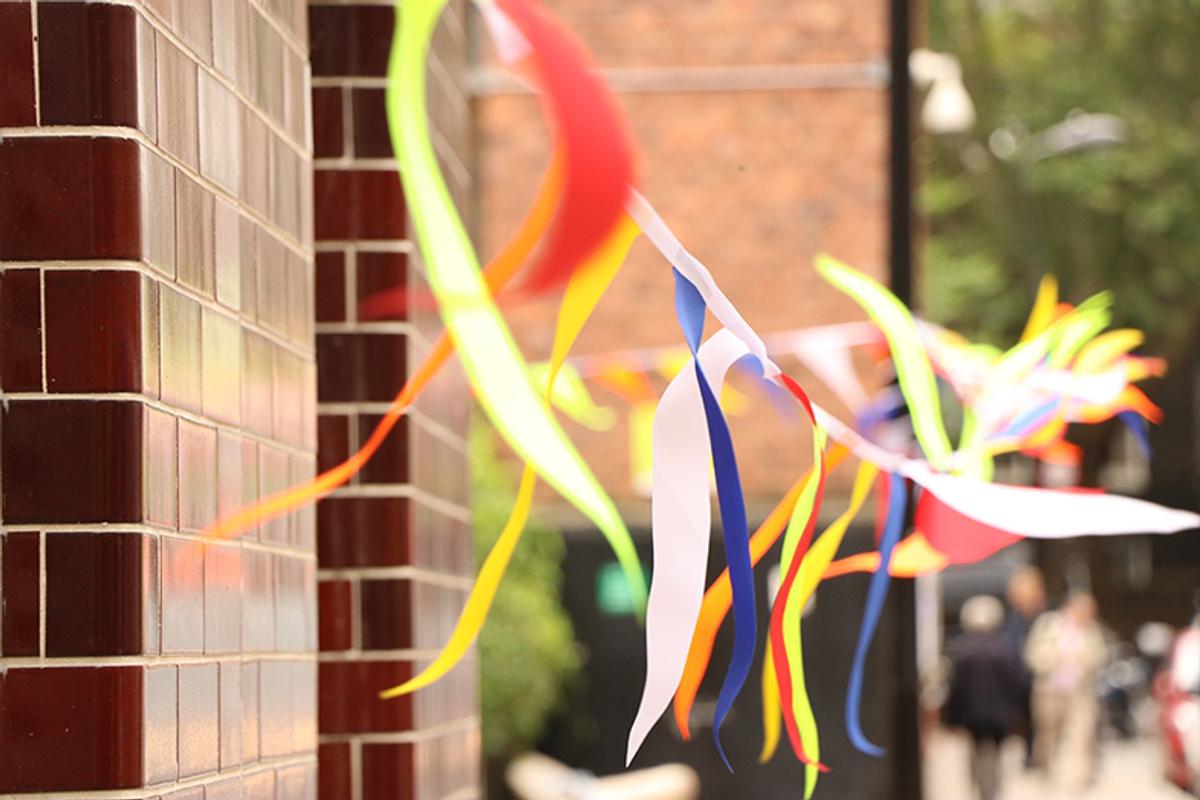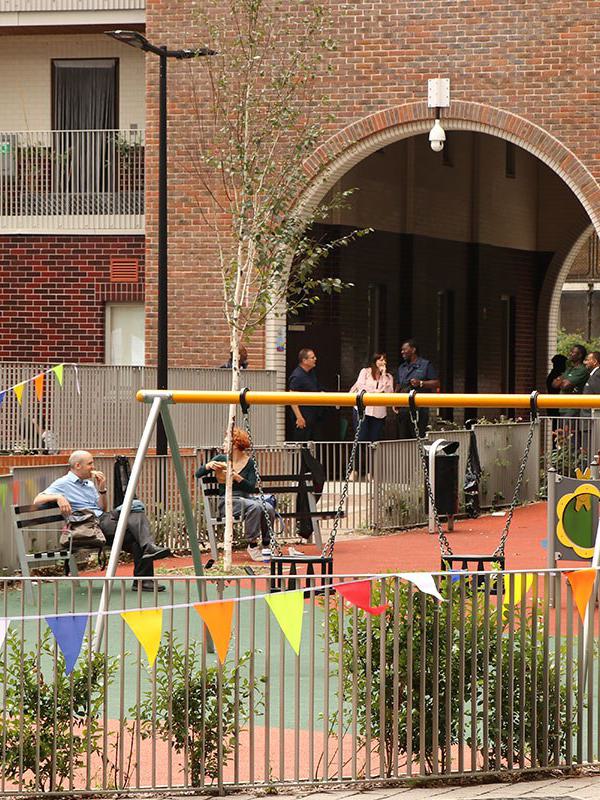 ---
Creating positive impact for all
Overall, the scheme has delivered 75 high quality mixed tenure homes – ranging in size from a studio flat to 4 bedroom maisonettes. In a highly sociable setting that has seen the estate come alive with families and neighbours from all walks of life.
Externally, the appearance of all homes is the same, whether for private sale or affordable rent – creating a feeling of real equality. Spaces that encourage greater communal activity begin to address bigger social issues around health and wellbeing. And clear links back to the design and heritage of the estate have ensured the same attachment to the newer areas, as with the much loved original buildings.
Residents we have spoken to are happy and engaged and will take pride in being part of Bourne Estate for generations to come. Demonstrating the power of design in unlocking the unique personality and potential of a development – and creating a place that works hard for all the people in it.
"It's much better, I can't even describe it. Now we're in a two floor house, all the bedrooms are upstairs, there are two bathrooms… It feels a lot more like a home home – I see my kids growing up very happy. I never thought I'd get a place like this".

Tochi – Resident
Awards
As well being loved by residents, the scheme has also received a number of industry awards.
---

Winner at the Camden Design Awards 2017

---

RIBA award 2018 - Winner in the London Region

---

New London Awards 2018: Housing - Built Winner

---

Overall Winner and NHS 70 Winner - Housing Design Awards 2018

---

Commendation in the category for 'Excellence in Planning for Homes' at the Royal Town Planning Institute's (RTPI) Awards for Planning Excellence 2018
Core Team
Below are some of the key people that worked on this project.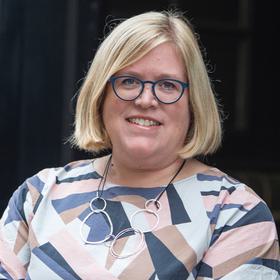 Start the conversation...
Learn more about Bourne Estate Regeneration and other projects by contacting one of our team
Call Hilary on 0207 089 2121 or email hilary.satchwell@tibbalds.co.uk