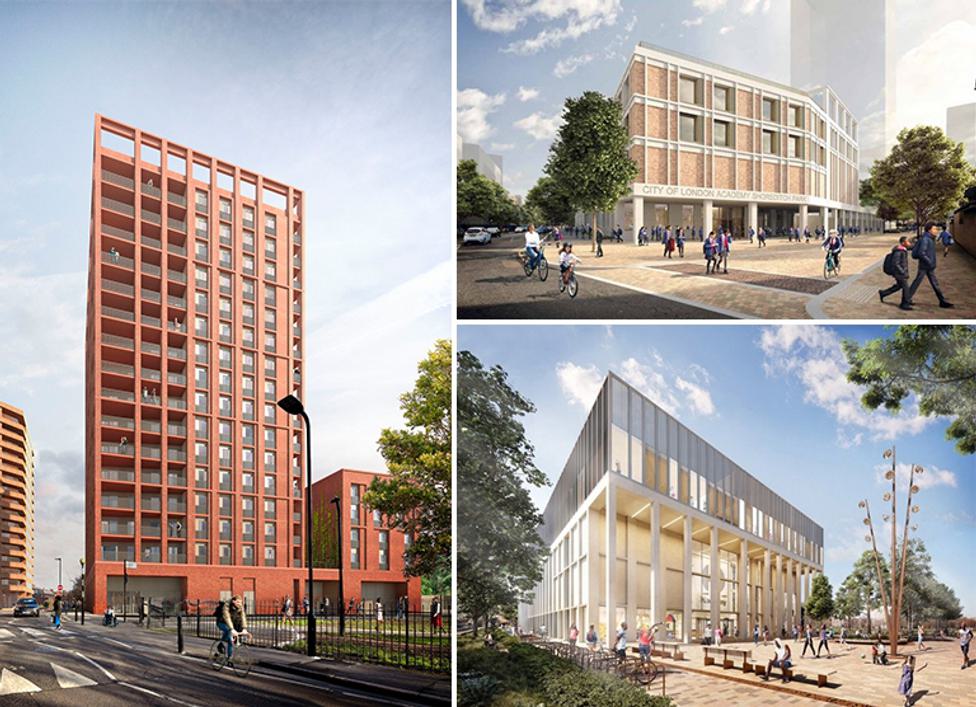 Go ahead for major Hackney redevelopment
New sports centre, school and homes project given green light

The London Borough of Hackney, advised by Tibbalds Planning and Urban Design, has been given the go ahead to develop a new leisure centre, secondary school and new homes on the site of the Britannia Leisure Centre near Shoreditch Park in London, N1.
The plans include:
A new, state-of-the-art leisure centre featuring two new training pools and a leisure water – for children and families – with water features and a flume a public café and toilets (that will be open for use by Shoreditch Park), a six-court sports hall, crèche and soft play area, sauna and steam room, fitness suite and flexible studio spaces, 4 squash courts, 2 five-a-side pitches and 2 tennis courts
A new, much-needed secondary school and sixth form with 1,140 places to meet demand for school places in Hackney
Up to 481 new homes, 81 of which will be genuinely affordable, to help meet increasing demand for housing
Other facilities and improvements, including a café and toilets (available to park users), a public square, new entrance to the park, and tree planting to make the area more biodiverse and green
Mayor of Hackney Philip Glanville said: "It's fantastic that this ambitious scheme has been approved by Hackney's Planning Sub-Committee, and we now hope the GLA will do the same.
"Hackney needs improved leisure provision, hundreds of more school places and thousands of new homes. Our proposals help deliver on all of these. I'm very proud that, despite ongoing government cuts to our funding, our Council is finding innovative ways to keep investing in our communities.
Lizzie Le Mare, Associate Director at Tibbalds Planning and Urban Design, said: "This is an important site with great potential to offer better facilities for the local community and a particularly good example of local authorities thinking innovatively about how to provide services and manage their land and property. A key driver for the project has been to create a successful new place that becomes a valued asset to the community. Although there have been a number of planning challenges, we have worked collaboratively with Council planners to promote good design principles that focus on making sure that this will be a welcome and accessible part of the borough as well as meeting wider local needs."
The new buildings will be placed on the site of the existing Britannia Leisure Centre, the existing asphalt tennis courts and the site of the Hoxton Press marketing suite.
The application is submitted as a hybrid application with the leisure centre, secondary school and affordable residential units submitted in detail and the later residential phases submitted in outline.
Following the completion of the planning process it is hoped that construction of the leisure centre and school will be complete in 2021, with the remaining phases completing later with the old leisure centre staying open until the new facility is complete.
Related Updates
Stay In Touch
Sign up to our Newsletter
Subscribe to our newsletter to receive updates about making people friendly places.