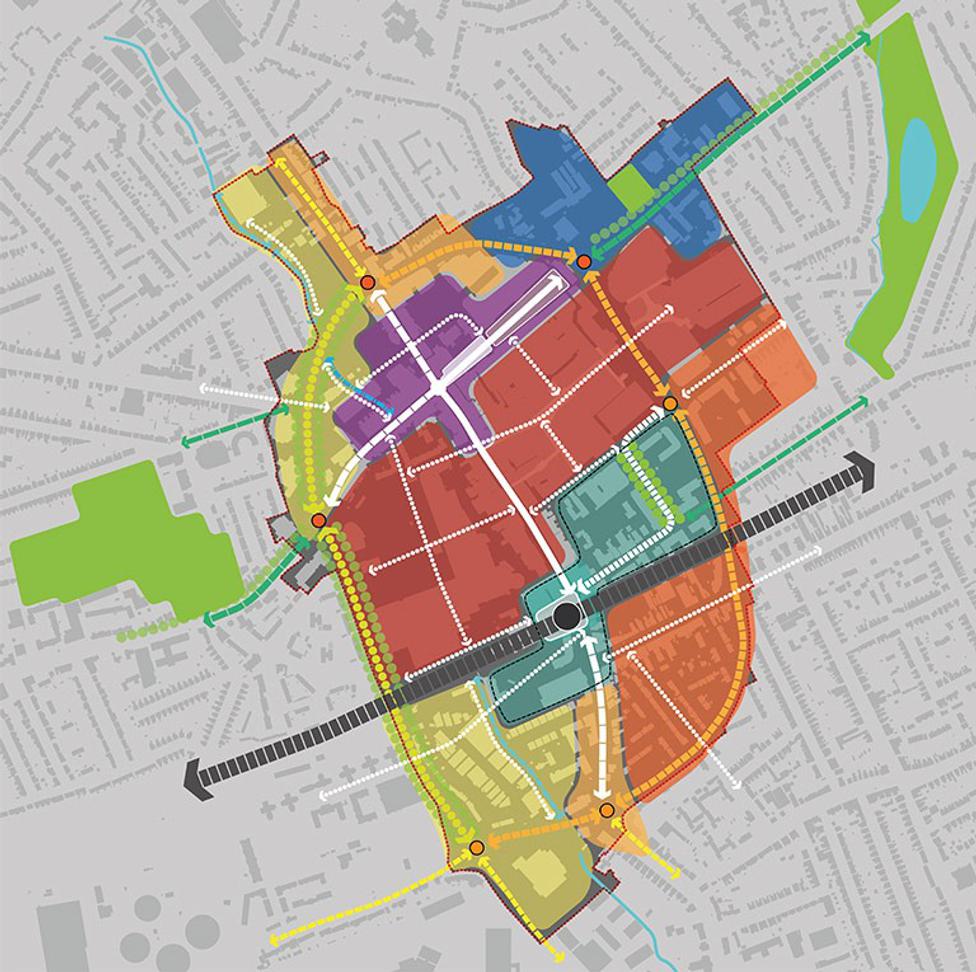 Havering Council agrees Romford regeneration plan ahead of 2018 Crossrail arrival
A plan for the future of Romford town centre, developed by Tibbalds, BBP Regeneration and CampbellReith, has been agreed by Havering Council.The agreed framework is both a strategic vision and practical delivery plan that sets out a course for town centre improvements over the next 20 years, maximising in particular the opportunities presented by Crossrail's arrival in 2018.
The document defines nine areas, each with a distinct character and focus, and identifies key opportunity sites with the potential to deliver around 2,200 residential units, approximately 29,000 sqm of commercial space, and over 4,000 sqm of public open space.
The plan focuses in particular on:
Market Place, which will be rejuvenated with a new public square providing a flexible civic space for cultural events and specialist markets, surrounded by a new cluster of cafés and restaurants leading to longer dwell times and additional footfall in the north of the town centre.
New public spaces in three other character areas and the opening up of the River Rom will provide a high quality waterside environment, providing a focus for new residential development in these areas.
Proposed guidance on development densities will provide new opportunities for residential-led mixed use schemes, providing high quality urban living for an economically active community. New social infrastructure will be brought forward in parallel with development to better serve the needs of existing residents in the town centre and beyond.
Romford's function as a focus for employment should be retained by modernising its office space to cater for the changing needs of businesses, as well as providing flexible accommodation suitable for other forms of employment along key frontages.
Romford's excellent public transport links by bus and rail will be complemented by new pedestrian and cyclist routes, particularly linking the residential areas to the west and creating links between the nine areas. Arriving by public transport will be improved by the creation of better links, improved bus stands and public realm around the station itself.
The framework will now be taken forward as part of the evidence base for the new Havering Local Plan.
Councillor Osman Dervish, London Borough of Havering Member for Pettits Ward, said: "Havering Council is committed to developing and improving Romford so that it can continue to grow as a major London centre. We're working closely with Tibbalds and BBP, as well as others in the private sector to make sure that Romford lives up to its full potential."
Katja Stille, Associate Director at Tibbalds Planning and Urban Design, said: "Crossrail coming to Romford will be a massive boost for the town, dramatically increasing its connectivity and opening it up for residential, retail and commercial growth and development. This framework has been created so that future plans are brought forward in line with a single strategic vision that draws on the town's existing qualities as well as helping to create as much advantage as possible from future regeneration proposals."
Further information can be found at EGi (account required) or at PropertyMall.com
Related Updates
Stay In Touch
Sign up to our Newsletter
Subscribe to our newsletter to receive updates about making people friendly places.