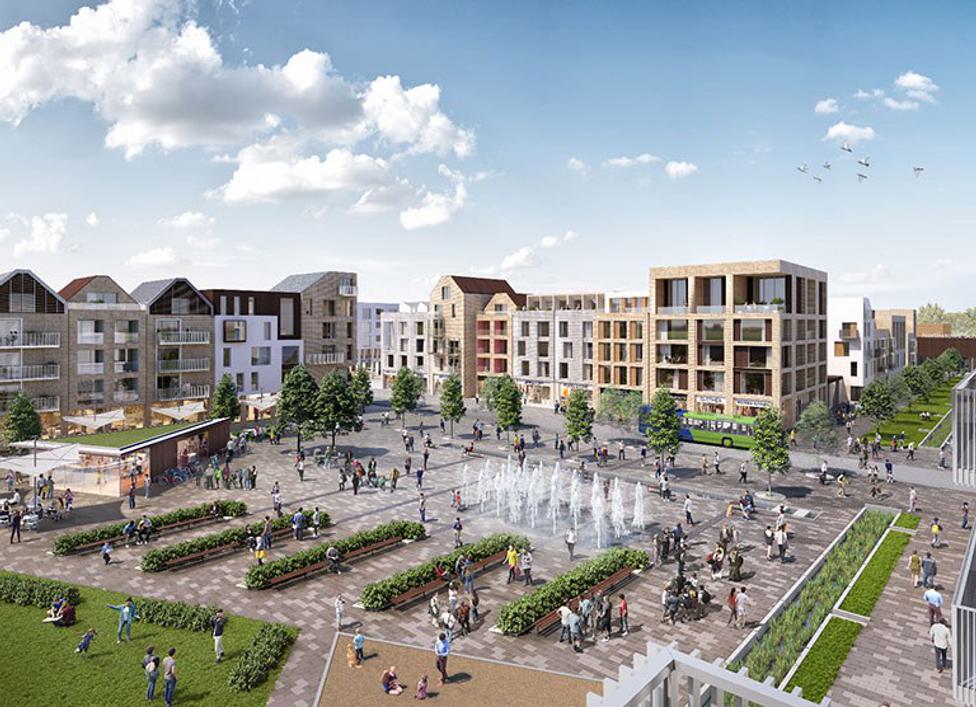 Tibbalds and Proctor & Matthews Architects appointed to plan and design homes for the HCA in new town for 21st century living
The Homes and Communities Agency (HCA) has appointed Tibbalds Planning and Urban Design and Proctor & Matthews Architects to provide long-term planning support and architectural services for Northstowe, Phase 2, a Cambridgeshire town designed for 21st century, sustainable living.
The work follows from Tibbalds' original role in preparing the Design Code for Phase 2, and will centre on what is considered to be the very heart of Northstowe town. Through a process of collaboration with stakeholders, Tibbalds produced a Design Code that focuses on a reinterpretation of the successful market town, rich in character and one that has evolved over time to become part of the surrounding landscape and home to a variety of living styles.
Northstowe, one of the government's Healthy New Towns, will encourage residents to lead more active lifestyles and use public transport through a more sustainable and inclusive design.
Drawing experience from the UK's historical and thriving market towns, plans for Northstowe will incorporate the elements that make them a success while accommodating 21st century needs, such as spaces for bikes, bins, parking and facilities that address today's community and health issues. Tibbalds' aspirational Design Code will ensure the durability of Phase 2 and deliver contemporary urban neighbourhoods with a mix of homes that are set within a network of green spaces and within easy reach of the new town centre and public transport.
Tibbalds will continue to support the HCA throughout the delivery of the Phase 2 programme by providing long-term planning support.
Proctor & Matthews Architects, supported by the Tibbalds CampbellReith JV, will produce the detailed design for the initial parcel of 380 homes, the first homes to be delivered by the HCA. These homes will cater for a range of living needs; from starter and young family homes to high-quality urban, family housing and homes for the elderly and those who require extra care.
The aim for Northstowe is to become a town with depth of character and that maintains a healthy environment for people to enjoy active living, one that is playful, sustainable and will stand the test of time. The town will also be developed to age gracefully and flexible enough to adapt as retail, work and living behaviours and patterns change.
Terry Fuller, General Manager of HCA Strategic Land, said: "These appointments are a real milestone in the growth of Northstowe. Not only will they help to deliver much-needed housing, but just as importantly, they will also deliver the high-quality design that will make Northstowe a vibrant and successful community for the 21st century."
Katja Stille, associate director, Tibbalds Planning and Urban Design, said: "Northstowe will be one of the most significant developments created over the next decade. The homes we provide will represent the diversity of life that makes a full and prosperous town; homes where you can grow up as a child, move into as a young couple, start a family and evolve as the town evolves. Our aim is to create a sustainable, flexible and aesthetic place that caters for all living aspirations and deliver a town for the future."
Georgina Bignold, associate director at Proctor and Matthews, said: "Proctor and Matthews Architects are delighted to be working alongside Tibbalds to design the first residential parcel of the second phase at Northstowe. It is an opportunity to create a vibrant 21st century sustainable new town with a distinctive local identity, and to meet the HCA's requirement for high quality design to set the benchmark for the wider development."
The HCA anticipates to deliver the first of the scheme's 3,500 homes in 2019 and commence the town centre and future phases shortly after.
Related Updates
Stay In Touch
Sign up to our Newsletter
Subscribe to our newsletter to receive updates about making people friendly places.