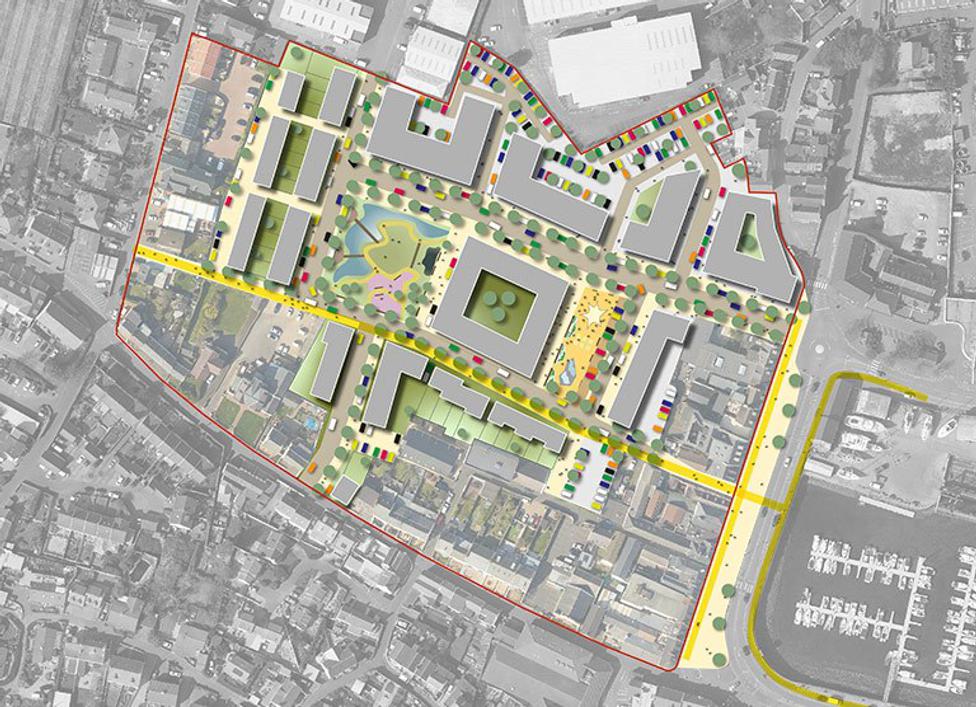 Leale's Yard Development Framework adopted – Guernsey development site unlocked
The States of Guernsey's Development & Planning Authority has this week adopted the Leale's Yard Development Framework (LYDF), a road map developed by Tibbalds Planning and Urban Design for bringing a major site on the island back into use.
The LYDF provides planning guidance for the mixed-use development of the Leale's Yard Regeneration Area with comprehensive and practical guidance on how policies in the Island Development Plan (IDP) will be applied to the site.
The 5.03 ha (30.71 vergees/12.43 acre) site is bounded by The Bridge, Nocq Road and Lowlands Road, with Lowlands Industrial Estate to the north. The main area within the site is owned by The Channel Islands Co-operative Society and is currently vacant.
Following local consultation, the framework is now part of the States of Guernsey's Supplementary Planning Guidance (SPG) and will be taken into account when considering planning applications on any part of the Leale's Yard Regeneration Area. Proposals for development will be expected to accord with it.
Deputy of The States Dawn Tindall said: "This is the first of four frameworks coming forward across the island to help regenerate underused areas and bring forward new facilities. The site itself is a well-supported area much liked by residents and there's a real desire to see something happen. Above all, there is an opportunity here to create an exemplar development that everyone can benefit from."
Hilary Satchwell, Director of Tibbalds Planning and Urban Design, said: "There has been a longstanding need to bring the Leale's Yard site back into use and the adoption of this framework is an important step forward, bringing certainty to everyone of local expectations and acceptable parameters for new proposals.
"While the framework itself is based on the principles of sustainable, delivery-led development, a mix of uses, community activities and housing types with good connections and public realm and open space, there is also a sensible balance between what must happen in any new development and elements that can still be flexible. This flexibility will be essential for unlocking the site and bringing forward new uses for the community."
Related Updates
Stay In Touch
Sign up to our Newsletter
Subscribe to our newsletter to receive updates about making people friendly places.