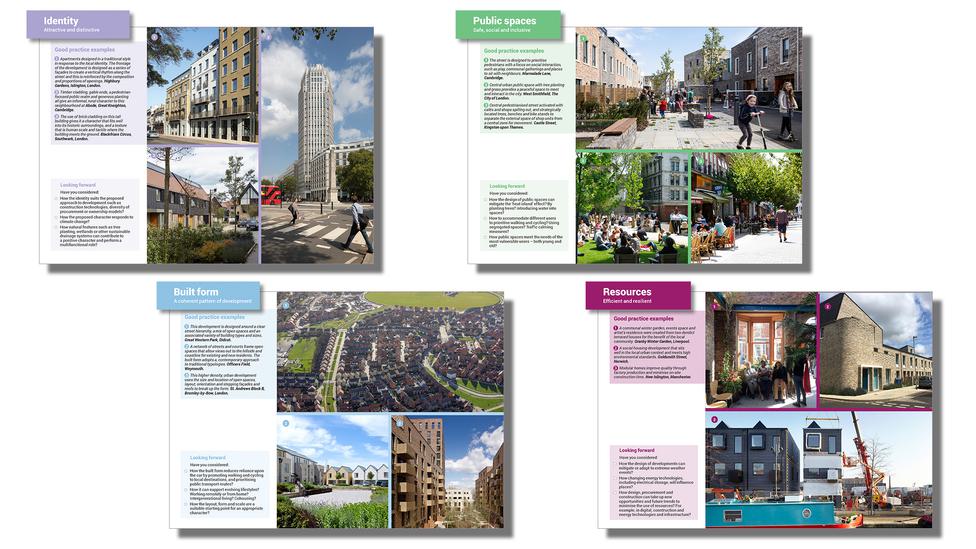 National Design Guide selected as finalist for RTPI Award
Tibbalds is excited to announce that the National Design Guide produced by Tibbalds for MHCLG has been selected as a finalist in the 'Excellence in Plan Making Practice' category of the RTPI Awards for Planning Excellence 2021.
The National Design Guide submitted by Tibbalds with Design Council and MHCLG, explains the government's design priorities and illustrates how well-designed places that are beautiful, enduring and successful can be achieved in practice.
The National Design Guide raises the profile of design through 10 key characteristics: Context, Identity, Built Form, Movement, Nature, Public Spaces, Uses, Homes and buildings, Resources and Lifespan. Best practice examples, all types of development and from all regions, show how each characteristic contributes to creating well-designed places that people enjoy. The individual characteristics work together to create the physical Character of a place, to help nurture and sustain a sense of Community, and to positively address environmental issues affecting the Climate. As Planning Practice Guidance, the Guide provides a framework for local design guidance and for assessing design quality.
The full list of finalists can be viewed here.
The winners will be announced during an online ceremony on 29th April 2021.

Related Updates
Stay In Touch
Sign up to our Newsletter
Subscribe to our newsletter to receive updates about making people friendly places.