Planning Reforms: It's Time To Think "Big"

Written by
Tibbalds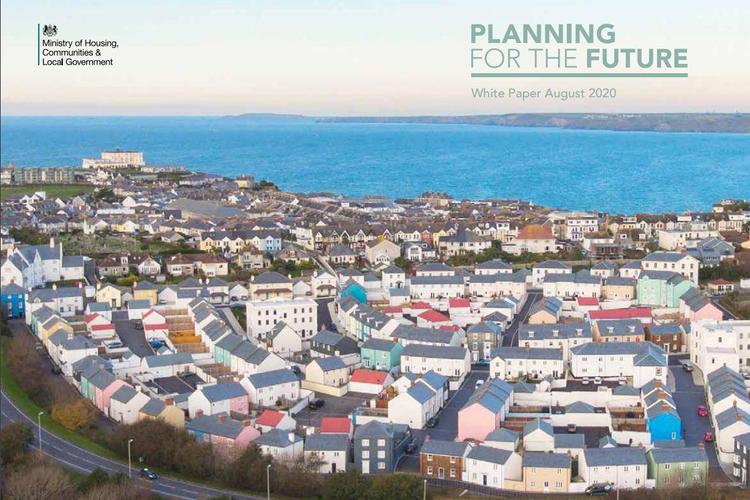 Here's a brief look at a few of the key proposals which have the potential to lead to positive change in London and elsewhere.
I confess to initially feeling a little daunted, deep into the challenging summer of 2020, by the arrival of the Government's plans to reform the planning system in England – "Planning for the Future". The Prime Minister's foreword promises "Radical reform unlike anything we have seen since the Second World War", nothing less than "a whole new planning system for England" to be built "from the ground up". For once the hyperbole might be justified – if carried through, the changes would leave almost no aspect of the current system untouched.
But as the weeks have passed, I've warmed to the idea of a complete overhaul. Certainly, as a day-to-day participant, it's clear that the current system isn't working for anyone. It's overly complex and sometimes opaque, delivering outcomes that are unpredictable and too often disappointing. Communities find themselves excluded and short-changed, council planners are overwhelmed and under-appreciated, and developers frequently frustrated and uncertain.
So, in a spirit of optimism, here's a brief look at a few of the key proposals which have the potential to lead to positive change in London and elsewhere.
Simple, spatial, accessible plans
The Government wants plans to be shorter, simpler and more visual. They are to identify land under just three categories: "Growth" areas suitable for "substantial development" where outline approval would be automatically secured for certain forms and types of development; "Renewal" areas suitable for some development such as "gentle densification"; and "Protected" areas where development is generally restricted.
It's clearly impossible to reduce the glorious complexity of a city like London into three "zones", but a simpler and more explicit spatial vision for the capital would be a welcome successor to the New London Plan, which weighs in at 527 almost entirely text-based pages. This should positively shape and direct growth to the city's activity nodes and transportation corridors, and establish clear, succinct policies on the most pressing issues - climate change, affordability, and economic resilience.
Creating such a plan would also be a great opportunity to employ the full potential of new technology to capture the imagination and priorities of young people, minority and low-income communities who can so easily be left out of the critical conversations about city building.
Design codes with bite
Much is made in the White Paper of the need to cut red tape, deliver quicker decisions and enable more homes to be built. This is balanced by a desire for a much greater focus on building "beautifully" and sustainably. The quantity-versus-quality tension is to be resolved through locally prepared design codes, produced with "genuine community consultation" and made binding on planning decisions.
Given that broad development rights are to be conferred in principle by the adoption of development plans, the new system will place enormous reliance on design codes to deliver good places. This is both a great opportunity and a huge challenge.
The opportunity lies in the potential for a renewed focus on the power of thoughtfully designed, engaging and attractive places to lift the spirits now and engender pride for generations to come. The challenge will be to discern and communicate what constitutes good design across all the London's diverse localities, get the buy-in of local people and then give the codes real "bite" in the detailed application process. This will require Boroughs to deploy highly-skilled design professionals and great tenacity in the face of competing priorities. A significant programme of training and investment will surely be needed.
A single levy to deliver public goods
The White Paper promises to replace both the current system of planning obligations (secured through S106 Agreements) and the Community Infrastructure Levy with a nationally set, value-based flat rate charge payable on the occupation of development. The stated aim is to raise more revenue than under the current system and deliver at least as much – if not more – on-site affordable housing as at present. In London, the Mayoral CIL could be retained to fund strategic infrastructure.
For anyone charged with navigating a course through the complexity and uncertainty of the existing regulations, this is perhaps one of the most superficially attractive proposals. The greater clarity and certainty of a set rate would be beneficial to all parties once it factors into land values. Ending the protracted rounds of negotiation and re-negotiation would speed up decision-making. However, calibrating the rate to capture enough value to fund the public goods that are so vital to creating complete communities without discouraging development will be a delicate art.
Realistically, the breadth and depth of the proposed reforms is the work of a decade. They need to be treated as such – thought through in detail, properly funded, and broadly based enough to survive short-term political cycles. But maybe this is the time to think big – a proactive, design-led planning system led by a confident public sector, communities in all their diversity given a real voice and a clear set of rules giving the development industry the certainty it needs.
Related Updates
Stay In Touch
Sign up to our Newsletter
Subscribe to our newsletter to receive updates about making people friendly places.