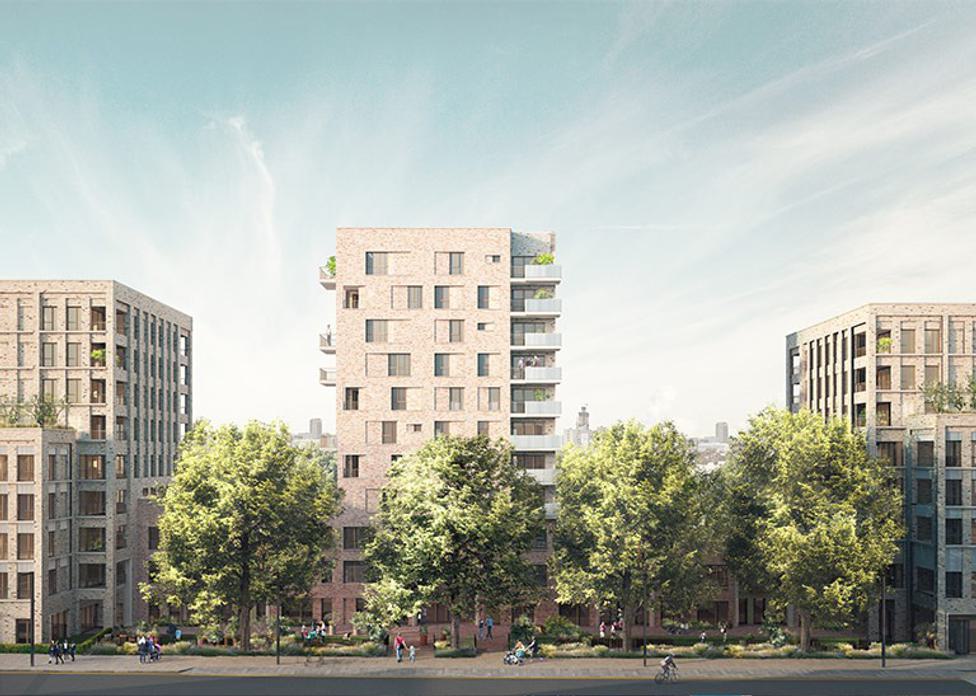 Plans submitted for major Brixton regeneration proposals
A planning application has been submitted by Tibbalds for the community-led regeneration of Somerleyton Road that could see more than £100 million invested in this part of Brixton.
Igloo is delivering the project as a development manager for a client group comprising Lambeth Council, Ovalhouse Theatre and Brixton Green. Tibbalds Planning and Urban Design is advising on planning. The lead architect is Metropolitan Workshop, with Haworth Tompkins, Mæ, Foster Wilson and Zac Monro each appointed to deliver different elements of the overall masterplan.
Located to the south west of Brixton town centre, the 1.5 ha site sits off Coldharbour Lane, between Brixton tube and rail stations. It was identified as a potential development area in the 2009 Brixton Masterplan and as a result, Lambeth Council formed a partnership with local arts organisation Ovalhouse and community benefit society Brixton Green to produce a shared vision for the project that incorporated local residents and businesses views, and ultimately inspired the current planning application.
The proposals have been designed to meet local housing needs and to improve the area for the whole community. They include:
303 new homes – all for rent and aimed at local people, including extra care homes. At least 50% will be Affordable homes.
A new home in Brixton for the Ovalhouse Theatre in a landmark location on the junction with Coldharbour Lane
A range of mixed uses along Somerleyton Road, including a new flexible community space, educational space, cultural and creative workspaces, community facilities, nursery, retail and a street gym
Communal and neighbourhood open spaces
The retention and refurbishment of Carlton Mansions and the locally-listed 'Nuclear Dawn' mural
Lambeth Council is acting as funder for the project, and will retain the long-term freehold interest in the completed development on behalf of local residents
The development team's overarching strategy has been to design a collection of familial buildings that work together to create an engaging street scene, all with front doors facing Somerleyton Road and in a variety of styles that reflect their different uses and respond to the local area. The five buildings along Somerleyton Road – four new buildings plus the refurbishment of Carlton Mansions – will have footprints that step forward and back in response to the existing trees and below ground tunnels. Building heights respond appropriately to the local context and would range from two to three storeys to taller buildings, with six to 11 storeys closer to Brixton town centre.
Public realm improvements are fundamental to the plans, with open spaces strategically designed to create 'hotspots' where residents can meet, socialise and relax. A variety of uses are included, from a street gym and community growing garden to a new children's play area and a new multi-purpose yard space. These are in addition to the communal amenity provision in the new housing, including roof terraces and residents' gardens.
Hilary Satchwell, Director of Tibbalds Planning and Urban Design, said: "This is a great example of what can be achieved on public land by a range of organisations working together to create mixed-use, mixed-tenure high-quality places. This planning application supports the aspirational-specific planning policy in place for the site and follows the input of a broad range of local people throughout the scheme development process."
Related Updates
Stay In Touch
Sign up to our Newsletter
Subscribe to our newsletter to receive updates about making people friendly places.