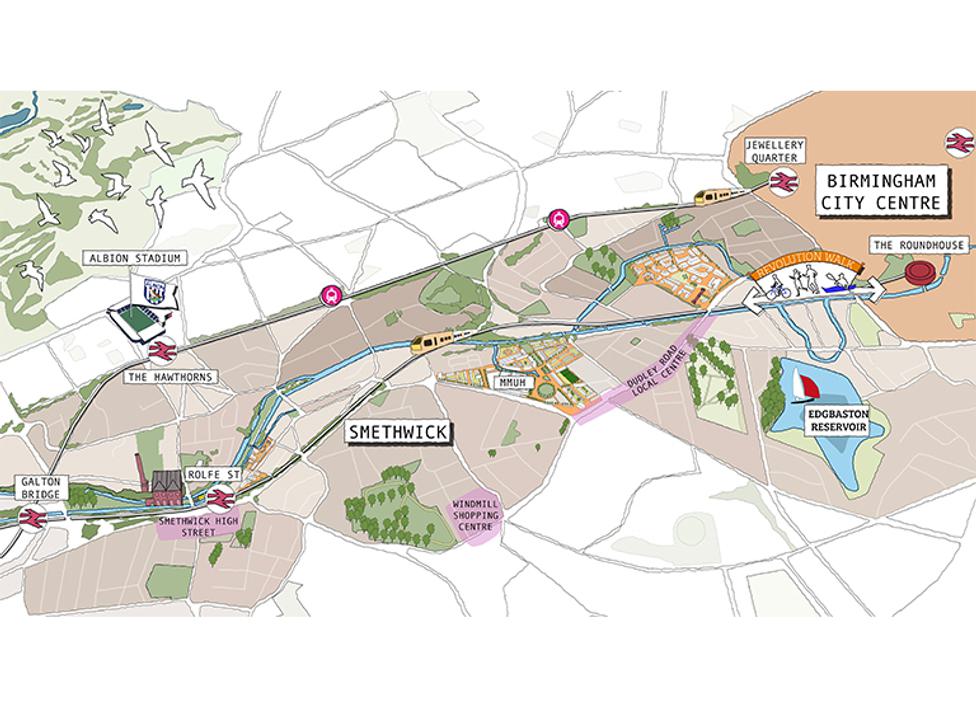 Smethwick-Birmingham corridor development framework approved
Birmingham City Council and Sandwell Council have approved the Smethwick to Birmingham Corridor Framework. The Tibbalds CampbellReith JV assisted both councils on the development of the framework.

The new framework covers a major part of Birmingham and Sandwell's historic canal district, stretching from The Roundhouse just west of Brindleyplace to Galton Bridge in Smethwick – the historic link between Birmingham and the Black Country.
It identifies several major regeneration and redevelopment opportunities along the corridor and includes a joined-up, sustainable transport strategy alongside guiding principles to assist in future design. Further, it will help reinforce a distinctive identity for the area while delivering high-quality housing, employment and infrastructure for existing and new residents.
The corridor has long been identified as having significant potential for new housing, and the new plan will expedite delivery of potentially 4,000 new homes with an emphasis on providing regeneration benefits to the existing community and creating a healthy and attractive place with inclusive economic growth and high-quality design.
The project is being led by the two councils working with the West Midlands Combined Authority, Homes England, Sandwell and West Birmingham Hospitals NHS Trust and the Canal & River Trust.
As well as assisting both Councils on the overall project through the Tibbalds CampbellReith JV, Tibbalds also developed the masterplan for the corridor's Grove Lane area in Sandwell that was approved at the same time as the framework. This area is expected to include more than 800 new homes and a new primary school on land around and adjacent to Midland Metropolitan University Hospital.
Katja Stille, Director at Tibbalds Planning and Urban Design, said: "Housing delivery is a huge priority for the area and this framework creates a way to meet these needs on brownfield sites with a focus on high quality design, health and wellbeing. We are pleased to be driving forward such a compelling and long-term vision that puts the area's potential and what makes it so special at the heart of everything."
Tibbalds was appointed under the Homes England Multidisciplinary Framework. Its team included Urban Movement, which looked at implications of change for transport, and Aspinall Verdi, which advised on the property market and viability.

Related Updates
Stay In Touch
Sign up to our Newsletter
Subscribe to our newsletter to receive updates about making people friendly places.