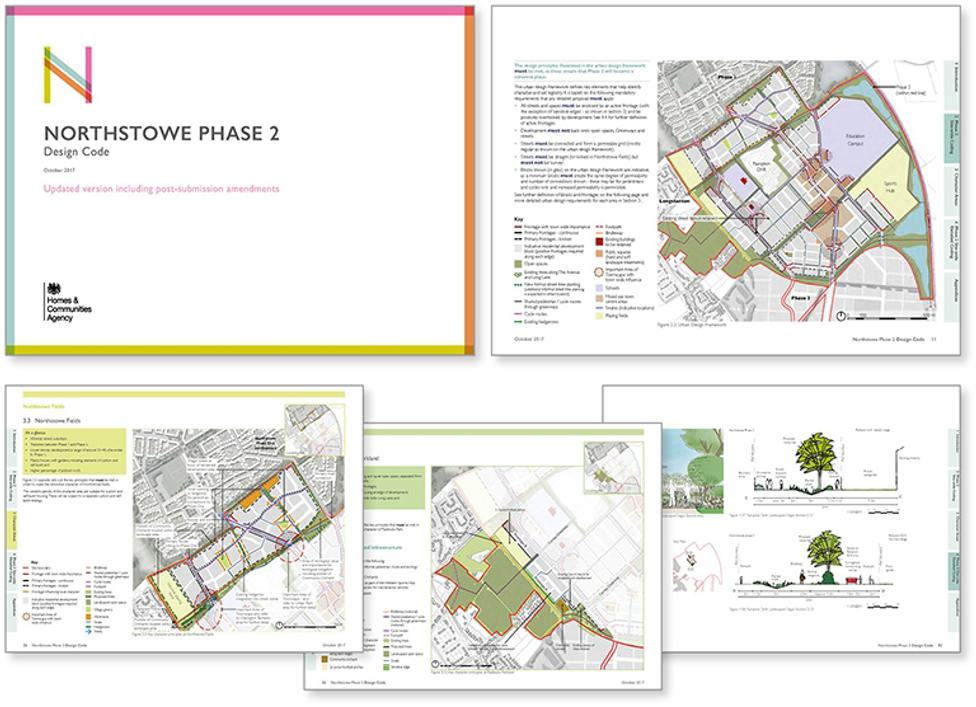 A step towards delivery of Northstowe Phase 2
South Cambridgeshire District Council approved our Design Code for Phase 2 of Northstowe. This is an important step towards the delivery of the urban core of this new town.
Northstowe is a new town in Cambridgeshire, promoted by Gallagher and Homes and Communities Agency (HCA). It will be the home of around 25,000 people and is one of the NHS's Healthy New Towns (HNT).
The Design Code for Phase 2 is an important bridge between the outline planning consent and detailed proposals for Northstowe. It is an appropriate forum for embedding principles of healthy neighbourhoods and will be used to assess reserved matter applications and brief future development partners. The code strikes a balance between prescriptive requirements, necessary to ensure quality, and flexibility to responds to potential changes throughout the development period.
Northstowe Phase 2 will be contemporary and of urban character. It will be higher density than the remaining phases with an average density between 40-70 u/ha. Of the 3500 new homes, none will be further away than 12 minutes walking and 2 minutes cycling distance from the town centre, stops of the guided bus, and site wide community facilities such as the Education Campus, including primary, secondary and special needs schools.
The code requires medium to high-density housing, comprising starter homes, family housing and living for the elderly and will create active and animated streets that will be safe and interesting to walk along. These will be set among high quality open spaces and natural landscape areas with regular seating opportunities to allow resting points for the elderly and those with disabilities.
All of this will be in close proximity to a mixed-use town centre, which has been influenced by traditional market towns in terms of scale, grain and mix of uses.
The code has been prepared with the needs of designers and officers in mind, so that it is practical and sets out clear justifications and requirements.
We look forward to seeing the first detailed design proposals coming forward.
Related Updates
Stay In Touch
Sign up to our Newsletter
Subscribe to our newsletter to receive updates about making people friendly places.