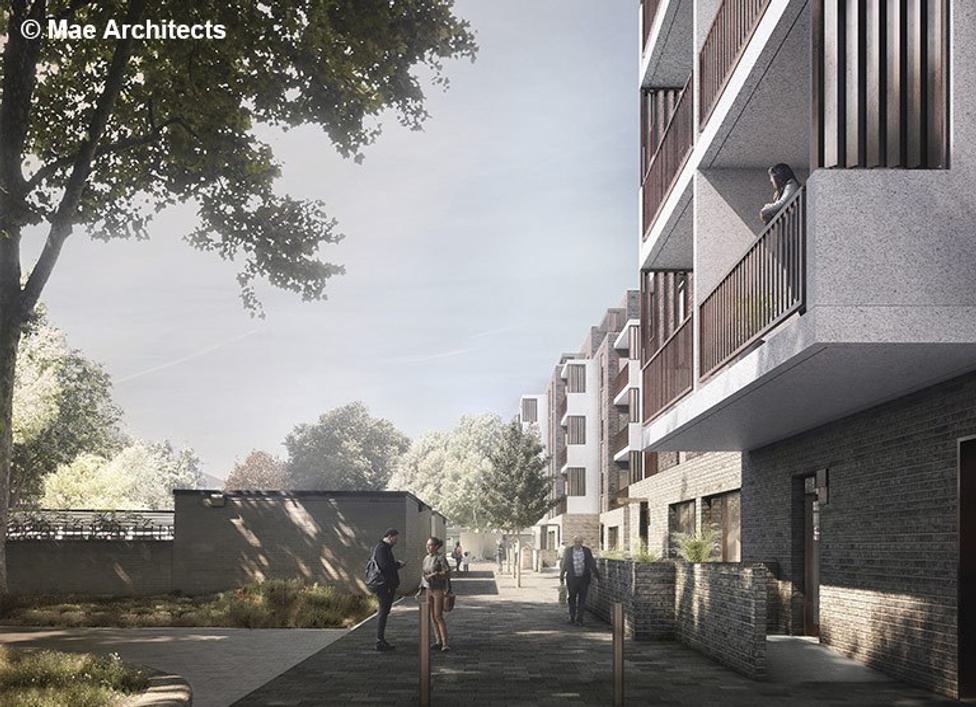 Successful planning decisions for the Westbury Estate and Knight's Walk projects for the Tibbalds CampbellReith Multidisciplinary team
The Tibbalds CampbellReith Multidisciplinary team are delighted that two projects we have been working on received unanimous approval at planning committee on the 20th March 2018. The two applications are the front runners in the ambitious Estate Regeneration programme being brought forward by Homes for Lambeth on behalf of Lambeth Council.
Both schemes have been led by Tibbalds Planning and Urban Design as lead consultant, planning consultant and design team lead; working with CPC Project Services as development manager and employer's agent. The comprehensive multidisciplinary design team has been working collaboratively across these estates since spring 2016, bringing forward design led schemes developed through close working with estate residents and neighbours. The focus of the schemes has been on providing high quality new homes for existing and new residents, with the main driver being delivering as many affordable homes as can be afforded. Other important considerations have included making sure the proposals are highly energy efficient and are low cost in use for those that will live in them, and creating inclusive new and improved open spaces, streets and play opportunities for all residents.
Across both of these projects engagement with the local community has been led by specialist Make:Good who have coordinated resident engagement panels as well as a programme of more informal meetings and drop ins, newsletters and updates.
The Westbury Estate outline planning application proposes 270 new and replacement mixed tenure homes, as part of a wider masterplan that will deliver up to 334 homes on the existing Westbury Estate, replacing 89 that will be lost to make way for a masterplan that creates a legible framework of new streets, spaces and connections. The masterplan comprises 9 blocks that form 4 new urban blocks and a single 10 storey tower. Metropolitan Workshop are masterplanner for the scheme working collaboratively with Macreannor Lavington across the range of development blocks. Camlins are the landscape architects for the scheme working on creating high quality new streets and intensified and accessible opens spaces. CampbellReith have provided engineering expertise to the team working alongside TGA Consulting on services and M&E.
Knight's Walk on the Cotton Gardens Estate will deliver 84 mixed tenure homes, 14 of which are for existing residents. The design of the scheme is in two phases, the first phase sits between Knight's Walk and Renfrew Road creating an inviting and clear set of routes for residents and passers by, the second phase looks to complete a new urban block that bridges between the more historic context to the north and the highly regarded Cotton Gardens Estate to the south west and reaches 7 stories along Kennington Lane. The new buildings step carefully along their length to create a varied building frontage that supports interaction along Knight's Walk and makes the most of the open views towards the park and play space. Mae are the architects for the scheme working with Dally Henderson as Landscape Architect, CampbellReith as engineer, TGA Consulting on services and M&E, and specialist fabric first advice from Etude.
Following on from the planning decision the team will be continuing to support Homes for Lambeth in moving the schemes forward to delivery on site.
Further information regarding the Westbury Estate is available here, and further information regarding Knight's Walk is available here.
Related Updates
Stay In Touch
Sign up to our Newsletter
Subscribe to our newsletter to receive updates about making people friendly places.