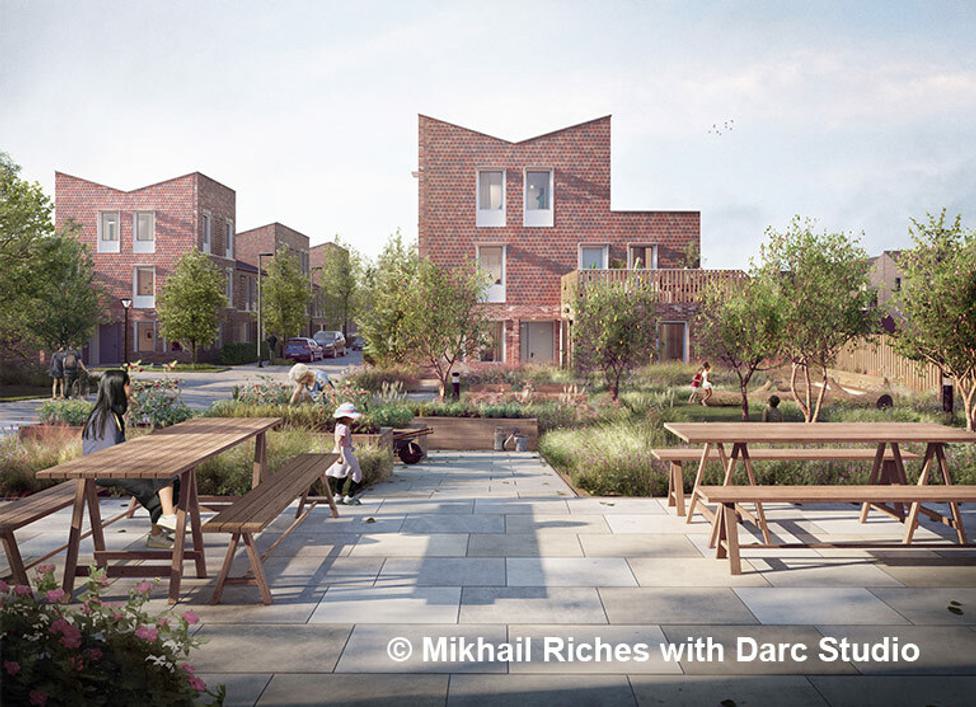 Sustainable Housing Development Given Go Ahead
Plans to build 85 new, sustainable homes at Ordnance Lane in York have been approved. The development is part of City of York Council's ambitious 600-home Housing Delivery Programme which is committed to ensuring healthy placemaking to benefit current and future residents.
The Ordnance Lane project, which is being led by City of York Council, their architects Mikhail Riches and Tibbalds Planning and Urban Design as planning consultants, will provide new high-quality homes catering to a broad range of households.
The new homes will be built to certified Passivhaus standards and will have net zero carbon emissions in operation with energy generated by renewables on site. The site has been designed with local residents and will engender a strong sense of community whilst preserving the rich heritage and high-quality existing fabric and character of the site. It will be well linked into the surrounding area, providing pedestrian and cycle access and ensuring that the new homes are easily navigable without the need for vehicles.
The 85 new properties will range in size from 1- to 5-bedroom multi-generational homes and have been designed to ensure easy accessibility. A minimum of 40% of the properties will be affordable, comprising 20% social rented homes and the further 20% shared ownership. The remaining homes will be for market sale.
The scheme will also include safe, communal space for social interaction between residents, including an urban orchard, natural play area, communal growing beds in the centre of the development and both shared and private gardens. The development will also provide further community facilities in the form of flexible spaces for residents.
The Ordnance Lane development is the latest project being brought forward by the Council's Housing Delivery Programme. Last year two schemes, Duncombe Barracks and Burnholme, received planning permission for 117 new homes between them. In line with the council's commitment to healthy placemaking, each Housing Delivery Programme site will be a low-car development which aims to improve the health and wellbeing of residents whilst promoting a low carbon lifestyle.
City of York Council's ambitious Housing Delivery Programme has been recognised by four recent award schemes, including; the Planning Awards, the Royal Town Planning Institute (RTPI) Yorkshire, The Local Government Chronicle Housing Award and York Design Awards.
Cllr Denise Craghill, Executive Member for Housing at City of York Council, said: "I'm delighted that our ambitious Housing Delivery Programme and the team realising its vision have won this recognition. Most importantly is that we're creating zero carbon homes for current and future residents. We're starting work on the first Passivhaus homes this summer, which are designed to meet the challenges of climate change while creating beautiful, versatile living spaces set in green open space."
Lizzie Le Mare, Director at Tibbalds, said: "This is another step forward for the Council's important Housing Delivery Programme. Not only is this a scheme which will deliver housing for a wide range of households but it will enable sociable neighbourhoods with a strong sense of community as well as providing a healthy place where people want to live. We're proud to have been part of the design team which worked very closely with the local community from the outset of the project, sharing the common goal of delivering better housing for the local area."
In addition to Mikhail Riches and Tibbalds, City of York Council's team includes Turner and Townsend, Civic, LEDA, Urbed, BBUK, Warm and ImaginePlaces.
To find out more about City of York Council's Housing Delivery Programme please visit www.york.gov.uk/HousingDeliveryProgramme
Related Updates
Stay In Touch
Sign up to our Newsletter
Subscribe to our newsletter to receive updates about making people friendly places.