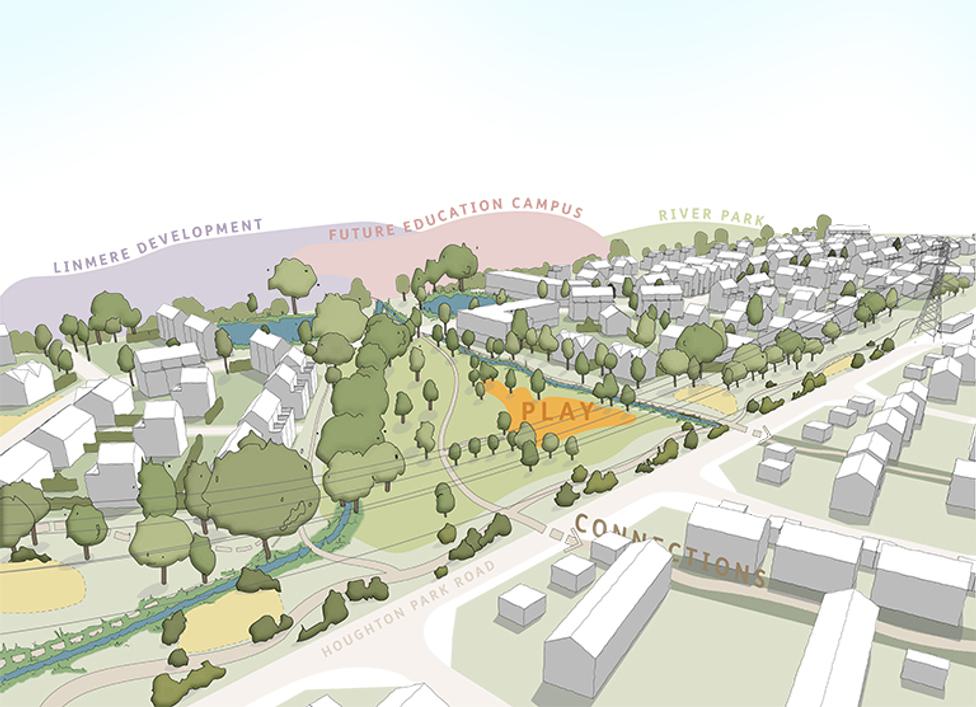 Tibbalds CampbellReith JV appointed to unlock Homes England Bedfordshire site
Homes England has appointed the Tibbalds CampbellReith JV for its Houghton Regis housing project, led by Tibbalds Planning and Urban Design as masterplanner and planning consultant with Campbell Reith providing engineering, transport and environmental expertise.
Located on the outskirts of Luton, the 14.72 hectare greenfield site on Houghton Park Road forms part of the wider 7,000 home strategic urban extension (SUE) of Houghton Regis North. It is one of 48 small and medium allocated sites within the recently adopted Central Bedfordshire Local Plan and has the potential to deliver 355 new homes as part of this wider growth area. It had previously stalled as a result of an earlier housebuilder winding down its business and is now a Homes England project.
The multi-disciplinary team is now developing a masterplan and outline planning application to enable successful delivery of the site and will include project management, planning, technical, design and engagement/communication as part of its scope.
Katja Stille, Director at Tibbalds Planning and Urban Design, said: "Houghton Park Road is located between an existing development and a much larger urban extension. In that context the size of the site may not be very significant, but its location means it serves an important role in terms of achieving connectivity and integration regarding active transport and green blue infrastructure.
"The clear objective of this project is to unlock the site for housing delivery. This means a workable masterplan and the right planning consent brought forward in good time, all with phasing, viability and other technical considerations factored in.
"Given the history of the site, winning the trust locally and building a positive relationship is important to us to ensure the masterplan works for both the existing and new community."
The TibbaldsCampbellReith JV was specifically established to meet Homes England's requirements. During its 10+ years' working relationship its track record includes projects such as Lightmoor in Telford, which is now fully delivered, Coypool, where the team helped unlock a constrained access situation and recently West Lane, Ripon where it delivered a Reserved Matters Application (RMA) on an extremely short timetable to keep the existing outline consent alive.
The Houghton Regis team also includes TEP (landscape ecology), PlaceChangers Ltd (provision of community engagement platform), CgMs Consulting/RPS (Heritage and Archaeology), and Lambeth Smith Hampton (viability consultants).
The appointment has featured in Planning Resource, Property Week and The Planner.
Related Updates
Stay In Touch
Sign up to our Newsletter
Subscribe to our newsletter to receive updates about making people friendly places.