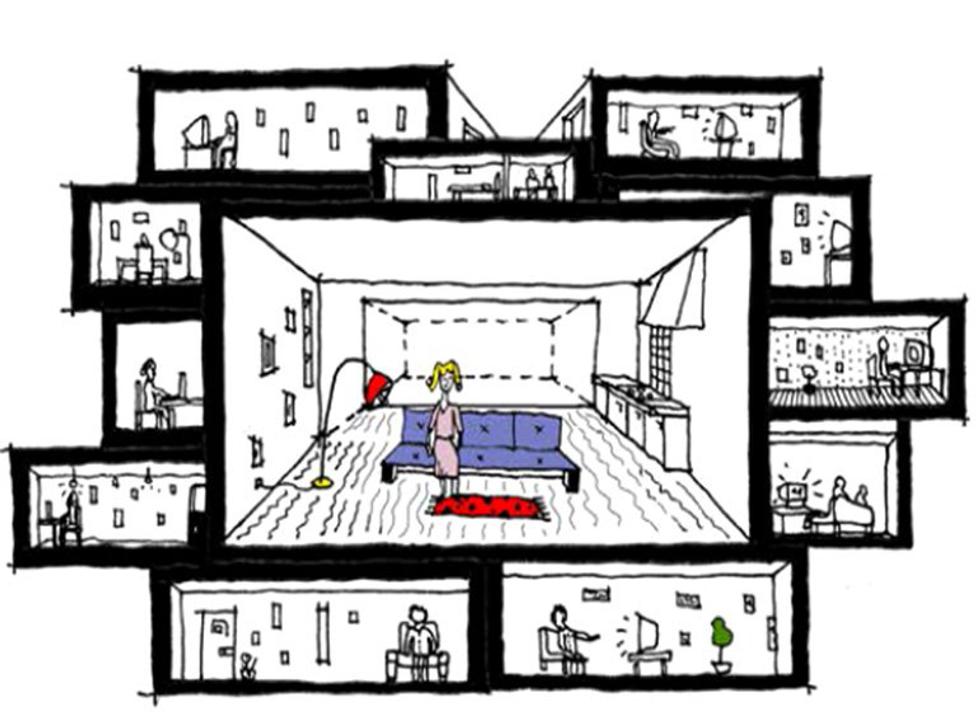 Tibbalds creates concept for Co-Lateral Living, to address London housing shortage
Tibbalds has recently developed a concept called Co-Lateral Living, which was submitted as a competition entry for the NLA New Ideas for Housing competition, conceived to establish options to help solve the London housing shortage.
Our ideas, developed together with Henley Halebrwon Rorrison Architects, evolved through conversations between like-minded Londoners from various generations.
Tibbalds' concept is for 'Co-Lateral Living' to be created as a not for profit company or Trust into which people invest capital. The primary investors are older people who are downsizing and wish to release capital from the sale of their home.
These investors (or shareholders) will occupy 50% of each Co-Lateral home. Their investment will pay for the construction of the housing.
The other 50% of Co-Lateral occupiers will be younger people, who will pay rent for the space they occupy. Their rents provide the older investors with an income or pension supplement. In return for receiving this income the older person's original investment (or share) is gradually transferred to the younger renter.
Over time, share capital will transfer from the older to younger residents. As the younger residents grow older they will gain a share 'pot', and in turn they will be able to receive a rent or pension from an incoming younger generation that will take their place.
The model assumes that share capital invested or accumulated would only grow in line with inflation, and hence the capital growth currently associated with property ownership would be removed from the equation, making access to property affordable to all.
The Co-Lateral model provides individual units connected to a generous provision of communal spaces available to all residents, similar to a co-housing model. The units are slightly smaller to London Housing Design standards by reducing functional spaces such as spare bedrooms, storage and utility areas and these are then incorporated within the extensive communal facilities. Other facilities would include a rooftop garden and clubhouse, a library/workspace, private dining room, gym and guest rooms.
The NLA competition invited anyone to submit an idea that would help to improve the speed, scale and quality of housing supply. Ideas could be small-scale or large in their ambition, but when brought together would make a significant contribution to the delivery of quality housing in the capital. It attracted over 200 entries from 16 countries around the world, from world-renowned architects, developers, consultants, local boroughs and everyday city residents.
Our competition entry was shortlisted and can be downloaded by clicking here.
Related Updates
Stay In Touch
Sign up to our Newsletter
Subscribe to our newsletter to receive updates about making people friendly places.