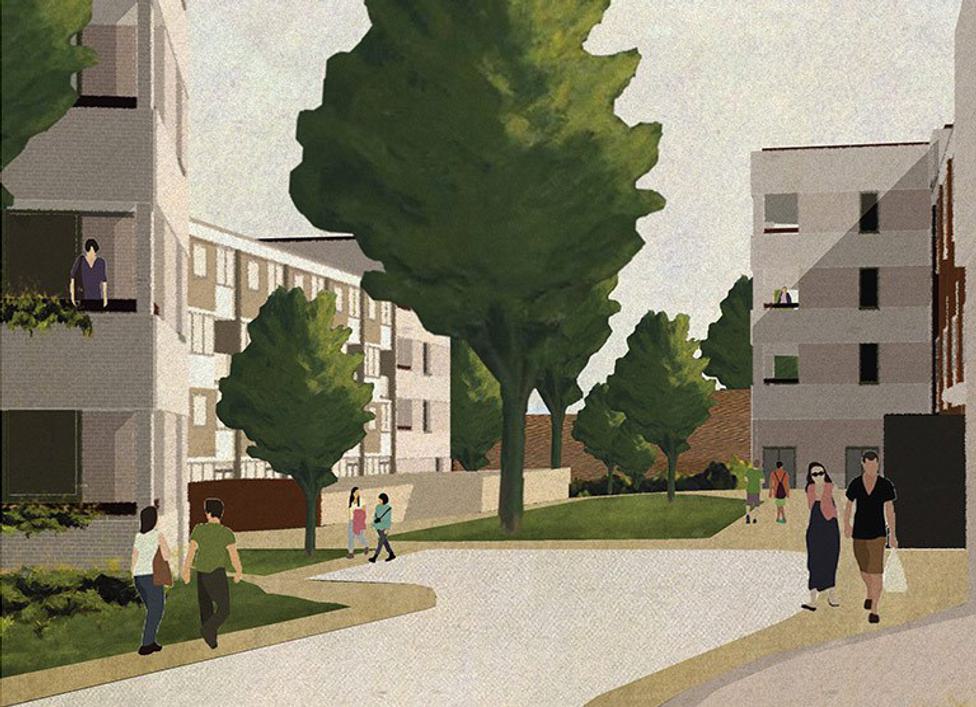 Tibbalds secures Wandsworth infill regeneration approval
Wandsworth Council, advised by Tibbalds Planning and Urban Design, has been given the go ahead for an infill development scheme creating 41 more homes for the borough's Kersfield Estate.
The new plans will see a mix of one, two and three bed apartments replacing garage buildings, poor quality areas of open space and an electricity substation, increasing housing capacity by 41 new homes. The Kersfield Estate is part of a residential area east of Putney Hill and sits adjacent to the Rusholme Road Conservation Area. It currently comprises three double stacked maisonette blocks, each of four storeys and a total of 51 apartments and maisonettes.

The scheme is part of a Council-led programme to develop 1,000 mixed tenure homes on infill sites over the next 8-10 years. The plans for the Kersfield Estate also include replacement trees and planting, significant landscape improvements including new children's play space, bike and refuse storage.
Lizzie Le Mare, Associate Director at Tibbalds, said: "The main challenge from a design and planning point of view has been ensuring that the scheme delivers the best possible design solution to make a positive contribution to the street and wider context and also maximise the benefits for new and existing estate residents. The orientation and positioning of the buildings has been carefully considered to retain as many good quality trees as possible and to create a landscape between the buildings that is usable and feels safe and secure."
The project was procured through the Homes England Multidisciplinary Framework using the TibbaldsCampbellReith JV multidisciplinary team, Tibbalds Planning and Urban Design led the team as lead consultant and planning consultants. The architects are Mæ and the landscape architects are Camlins.
Related Updates
Stay In Touch
Sign up to our Newsletter
Subscribe to our newsletter to receive updates about making people friendly places.