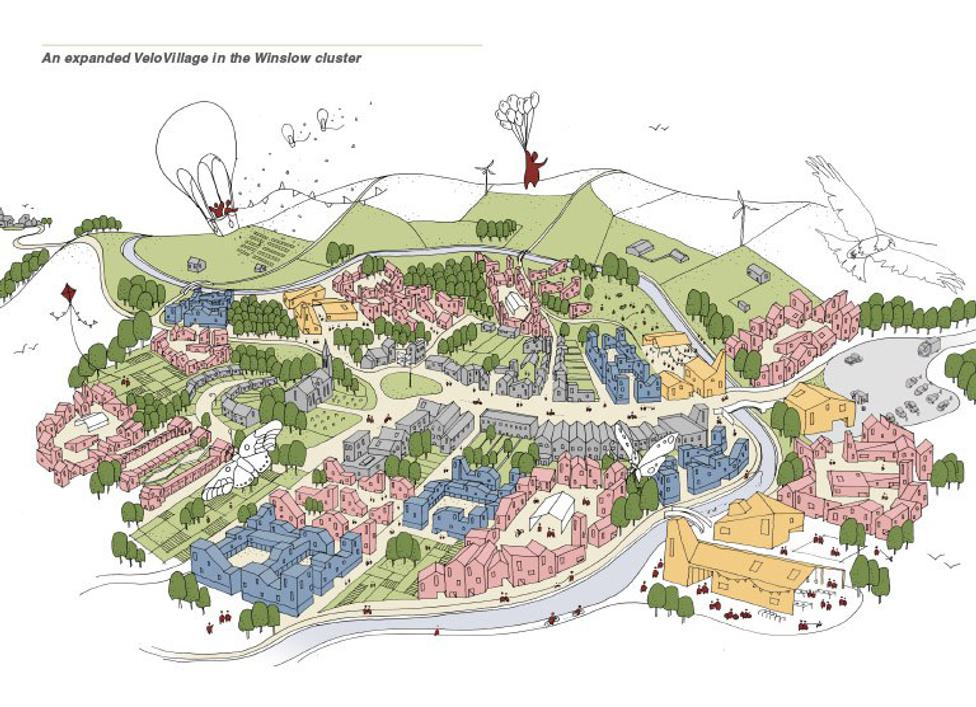 VeloCity wins Oxford to Cambridge growth competition
Tibbalds is thrilled to announce that the submission by VeloCity – a team including Jennifer Ross, Director of Tibbalds – has been selected as winner of The Cambridge to Oxford Connection: Ideas Competition by the National Infrastructure Commission (NIC) and Malcolm Reading Consultants.
The competition sought inspirational visions for the future of development within the area encompassing Cambridge, Milton Keynes, Northampton and Oxford, one of the UK's fastest growing and most productive regions.
The all-women team is a collaboration between Jennifer Ross of Tibbalds Planning and Urban Design, along with Sarah Featherstone (Featherstone Young), Kay Hughes (Khaa), Petra Marko (Marko and Placemakers), Annalie Riches (Mikhail Riches) and Judith Sykes (Expedition Engineering).
The vision of VeloCity is a strategic approach to growth and placemaking along the Oxford to Cambridge corridor, centred on a re-imagining of the village for the 21st century. It stood out to the jury for its low-impact blueprint for delivering much-needed new homes while maintaining a person-centred scale and retaining the existing character of the area.
VeloCity focuses on six villages situated to the south east of one of the new stations on the Oxford to Cambridge rail link as a test bed. It advances a place-based vision for reimagining how a group of smaller villages might evolve over a 30-year period.
Taking the opportunities that will be created through the introduction of a new integrated system of fast rail and road links connecting major towns and cities, the proposals introduce an associated finer grain network of local, medium and longer distance cycle and pedestrian routes and in so doing the strategy seek to explore how we might plan for a future which no longer needs to rely so heavily on movements by car.
The vision has been developed to enrich village life and a sense of place, while creating new homes and working environments in healthy and socially cohesive places – described by the team as a modern picturesque. It proposes a way to install a low-cost high speed data network and introduce technology to foster a more sustainable environment and new employment opportunities, with an emphasis on the retention and enhancement of the natural environment.
Jennifer Ross, excited by the results of the competition, spoke more about the project: "The successful implementation of this strategy allows for traditional planning policy to be turned on its head and locations that were previously seen as unsuitable for growth transformed into well-connected and sustainable places.
"It also considers how the vision might be delivered over time and the key actions and interventions that would need to be taken to make it happen. It is a people-centred vision that shows how communities could get involved and shape the places in which they live."
The Cambridge – Milton Keynes – Oxford arc is home to 3.3 million people. The region hosts some of the country's most successful universities and high-tech manufacturing hubs and has a highly skilled workforce. Its future success is threatened by significant housing constraints and transport pressures. The Commission's report identified how well-designed and planned infrastructure could enable authorities across the region to overcome them and ensure the region's long-term prosperity.
Related Updates
Stay In Touch
Sign up to our Newsletter
Subscribe to our newsletter to receive updates about making people friendly places.