Working with People and Places

Written by
Tibbalds
Ella Stone has been working as an intern and a freelancer / design assistant within Tibbalds for almost five months and has been involved in some of the projects that Tibbalds has been involved with. Ella has primarily been engaged on the South Lambeth Estate, a regeneration project that Tibbalds are involved in, and she has used her own skills, interests and ideas to engage the community in the process. Here she describes some of those projects, and the impact they have had on the community living there.
I started working at Tibbalds in April. Whilst here I've sharpened my more technical design skills assisting projects producing research and design drawings but much more interestingly I have designed, proposed and implemented a community engagement project on the South Lambeth Estate (SLE).
My degrees are in Spatial Design and Visual Communication and I've worked as an architectural model maker, but when I began my internship with Tibbalds I was teaching a children's circus class and an art class for neuro-diverse teenagers. So when I came to Tibbalds I was looking for a way to combine working with people and facilitating creative projects with spatial design.
SLE is undergoing regeneration, for which Tibbalds leads the Development Management Team. In layman's terms, this means they co-ordinate the architects, landscape architects and engineers, as well as provide opportunities for the community to engage in the design and development process. I live up the road from SLE on Cotton Gardens Estate where you'll find Knight's Walk, an area of bungalows also about to undergo regeneration. SLE and Cotton Gardens are two of the five estates in Lambeth currently going through this redevelopment, and two of the three being led by Tibbalds. I discovered Tibbalds when researching what was happening within my own home and neighbourhood.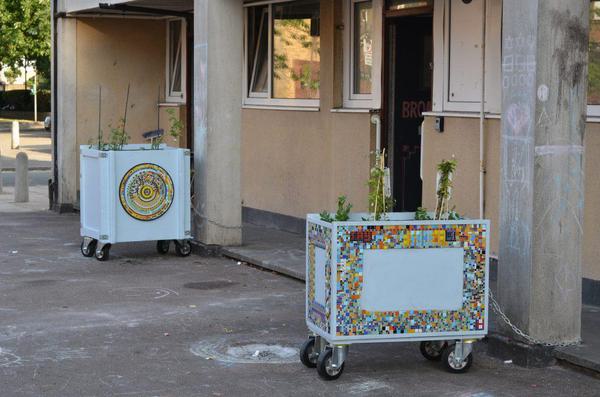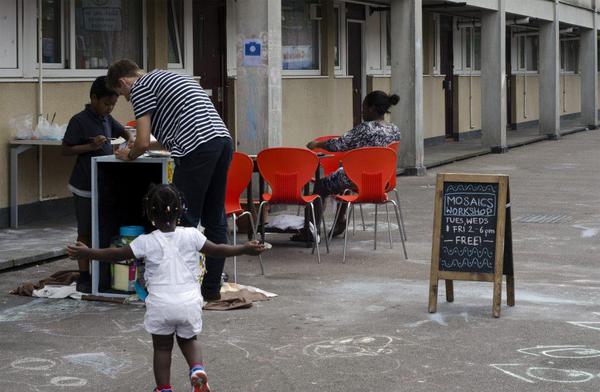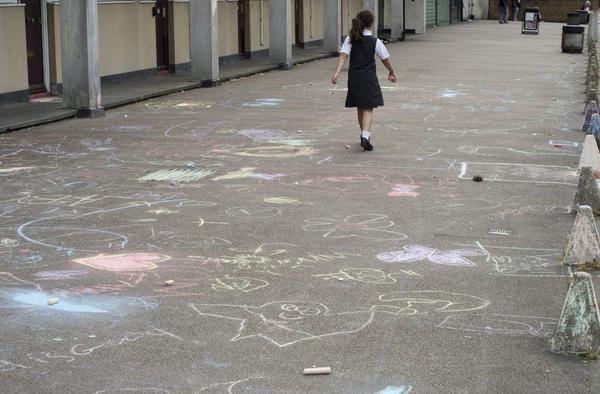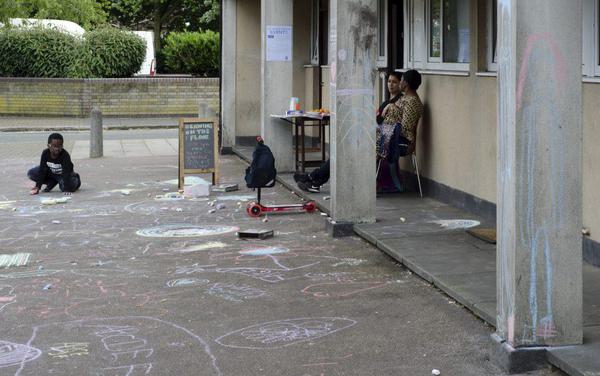 My project on the SLE was to support the implementation of the, 'Social Value Strategy;' to help, 'create and preserve existing communities.' I ran weekly workshops intended as creative, accessible activities through which I could meet residents. Amongst other things, we painted bird boxes and plant pots. We covered the pavement outside of the hub in brightly coloured chalk drawings. If you go by the hub now you'll see the mobile community garden, made from recycled packaging boxes on heavy duty castor wheels that will roll it out of harm's way during the demolition of the old and construction of the new estate. The mosaics on these were made by residents in workshops run by Adam Stanley, a local mosaics artist who I asked to come and work with us. The mosaics are beautiful and were the most successful in getting people of all ages involved in the project. The rest of the workshops were joined mainly by children and their mums. This created a joyous atmosphere, which can be seen in the bright chalk drawings that stayed outside for weeks during the dry hot Summer. We had cooking lessons using produce growing in the mobile garden, encouraging 'health and welfare,' but mainly in the cause of fun and eating. For mums, the workshops provided a relaxing social space. What I observed from these is how greatly appreciated some form of community childcare on the estate would be.
I was sad when my internship and the project finished, and so were many of the people who I've gotten to know. However, I am still working on the estate, now with my friend and filmmaker, Jessie. In this rapidly changing cityscape we are making a film to capture a piece of London before it is demolished and replaced. This includes providing a platform for residents' voices. This can be about their feelings about the regeneration, what the area was like when they moved in or taking the bins out. The relationships I've built throughout my time here are invaluable for this.
We intend to finish the film in mid-October. We'll be showing the film on the Estate in a screening for residents and everyone involved, as well as in office for everyone working at Tibbalds. Watch this space for further updates of film screenings.
Related Updates
Stay In Touch
Sign up to our Newsletter
Subscribe to our newsletter to receive updates about making people friendly places.