Making people-friendly places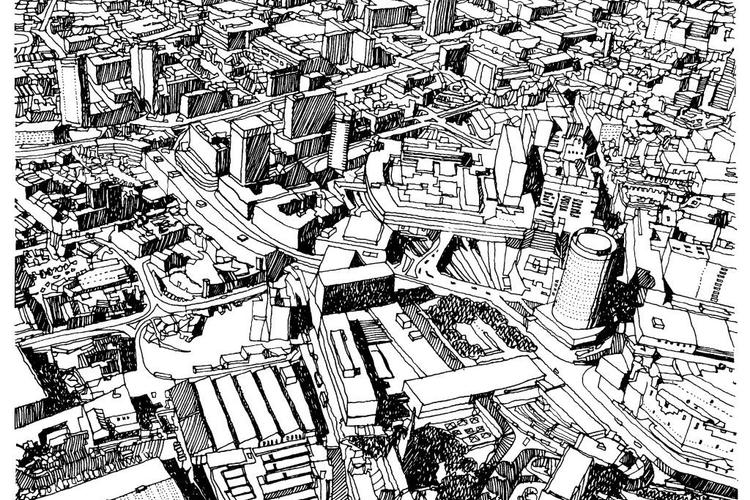 Together with the Urban Design Group and other organisations, Tibbalds have launched a campaign to put people at the heart of urban design, planning and engineering. Katja Stille, Tibbalds' Director and Executive Board Member of the Urban Design Group, sets out what the campaign is and what it seeks to achieve, and reflects on the legacy of Francis Tibbalds.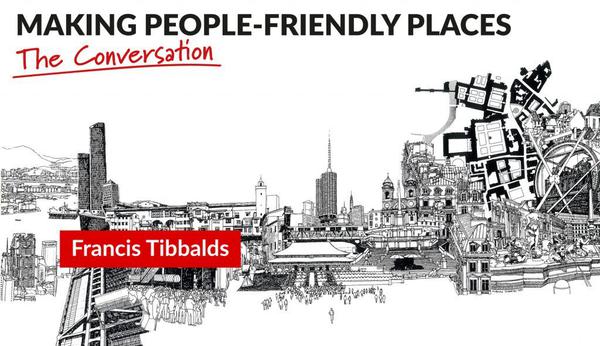 The Conversation: 'Making People-friendly places'
In the past year we have seen the 25th anniversary of the Francis Tibbalds' seminal work 'Making people-friendly towns' which proposed a more people-centred approach to how we make our towns and cities. Originally published in 1997, the book remains in print today.
I'd love to say that Francis Tibbalds' principles are not relevant anymore, because this would mean that we have achieved what he set out to do – make good places for everyone. Unfortunately, there remain many drivers that frequently outweigh people-friendliness and mean that these considerations can get cast aside. Key factors include people "forgetting" that projects are about outcomes on real people, a reluctance to challenge established process or not working collaboratively, as well as an often singular focus on commercial considerations and the impact of funding challenges within Local Authorities.
In 2003, I started working for Tibbalds Planning and Urban Design, the company originally set up by Francis Tibbalds. For me, having grown up from junior urban designer to Director, the principles and ethos in his book shape my day-to-day work, as it does for the rest of my colleagues. Sadly, this is not the case for everyone in our industry and there are many obstacles that prevent the making of people-friendly places.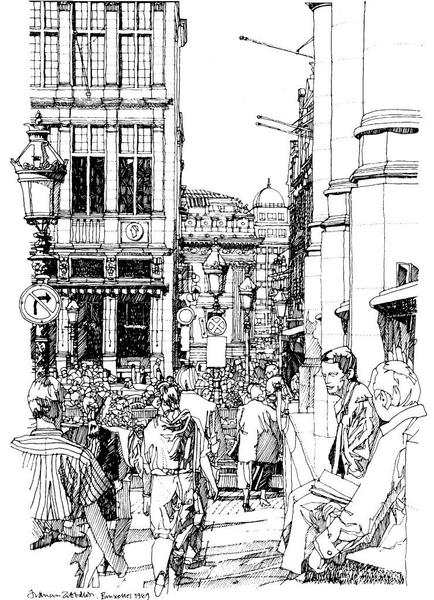 The Urban Design Group, together with Tibbalds and other supporters, including the Place Alliance and TCPA are not alone in their ambition to create people-friendly places. The RIBA has recently published their '10 characteristics of Places where People want to Live'. It is an inspirational document that demonstrates that people-friendly places can be built. However, in the publication the RIBA acknowledges that the projects shown are exemplar. This is not good enough, we should aspire for every development to be a place for people.
At the same time as the RIBA set out its 10 characteristics, the Urban Design Group published the outcome of it's Pilot Survey into street design in the UK. The outcome is dismal – Large refuse collection vehicles are given greater priority than disabled and elderly people by nearly two thirds of highway authorities!
Clearly, there is still a lot of work to do. While many embrace the ambition to make people-friendly places, key decision makers in many cases remain to be convinced to the extent that they ensure that what comes through their departments and teams retains a focus on the people the building or place is for.
We need to develop a common vision of what people-friendly places are and the methods and approaches by which they can be best delivered.
We also need to think about all of the people that will use the places we create and understand their actual needs, concerns, abilities and ambitions – through listening and research. Taking the example of children – many studies have demonstrated that it is essential for children to safely and independently explore their neighbourhoods. Especially without fear of traffic, and children have different abilities to adults. They are less able to judge traffic speed and have a different perspective.
Yet, how often are children made key stakeholders in our planning, design and engineering decisions?
"Children are a kind of indicator species. If we can build a successful city for children, we will have a successful city for all people"

Enrique Penalosa, Mayor of Bogota.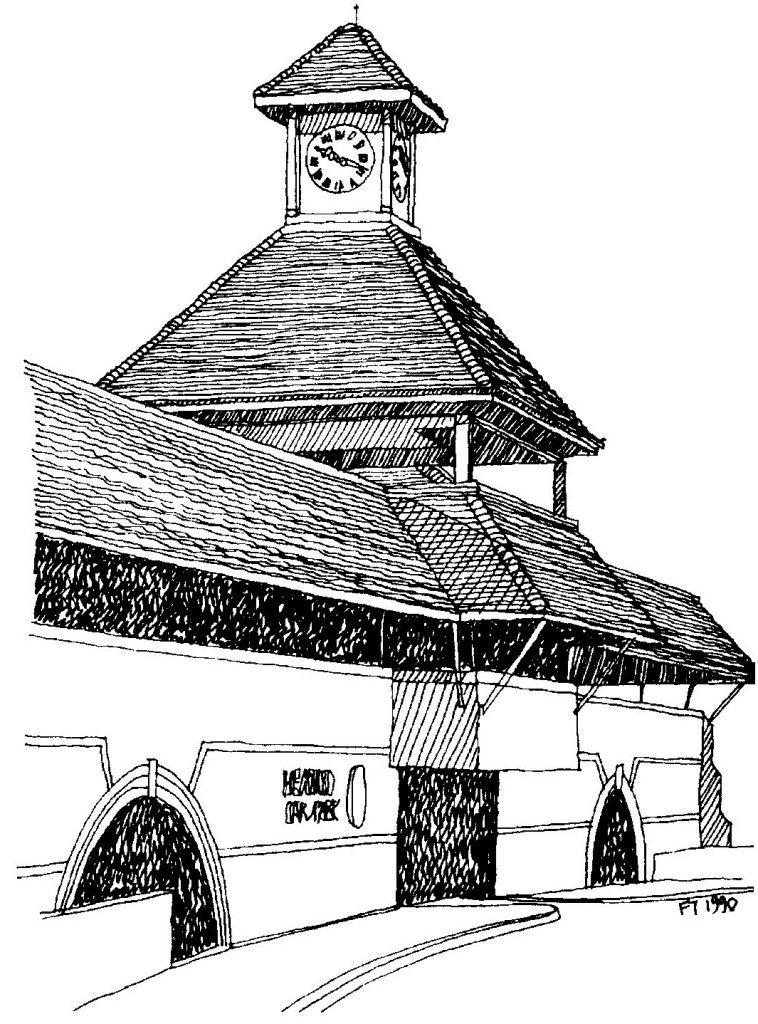 What would a child-friendly place look like today? This and many other question we hope to explore in this open initiative.
In 2016 a Lancet study made the headlines telling us that bad diets and unhealthy lifestyles have become the biggest threat to life expectancy, fuelling seven in 10 deaths.
At the time when Francis Tibbalds' book 'Making people-friendly towns' was published health and wellbeing wasn't as explicitly on the agenda as it is today. Nevertheless, it is inherent in everything he stood for. He asked us to create towns and neighbourhoods that are above all good for people, hence places that allow us to be healthy and happy. He was an early advocate for the importance of well-being or comfort.
The issues raised by Francis Tibbalds some 25 years ago are unfortunately still major concerns, such as the dominance of traffic and air quality. At the time issues were focussed around creating places where people are prioritised over cars, and where street are safe and social spaces for community interaction
More than six million middle-aged people in the UK do not even taken a brisk 10 minute walk once a month thereby putting themselves at greater risk of serious health conditions, including type 2 diabetes, heart disease, dementia and cancer.
Over nine million people in the UK experience loneliness, thereby impacting their physical and mental health, and making it harder for them to engage with many of the opportunities our places have to offer.
The built environment alone can't solve all the issues, but, if places are well designed and planned with people at the forefront it can make it a lot easier to encourage healthy lifestyles.
Many studies and research tell us what we need to do – for example enabling contact to nature, active travel, access to healthy food, and spaces that encourage and facilitate both formal and informal social interaction. Creating healthy, happy places really must become a corner stone of what all of us working in the built environment do.
We do have some legislation and government guidance that supports making the people-friendly places, yet they don't have seem to have teeth when it comes to what is actually delivered.
The Equalities Act is designed to ensure we treat people equally and focus on their needs and abilities. It says "Councils, in the exercise of their functions (and private companies providing public services), must have due regard to the need to advance equality of opportunity of people with protected characteristics (including age, disability, race and gender) … and to reduce the inequalities which result from socio-economic disadvantage". Despite this we have all heard of the 'poor doors' reinforcing segregation between people with different socio-economic abilities. We have heard about inaccessible streets and highway designs that provide real barriers to people movement. These are not people-friendly.
The NPPF also says some useful words that support a people-friendly agenda. …"Achieving good design is about creating places, buildings, or spaces that work well for everyone, look good, last well, and will adapt to the needs of future generations".

Government guidance on street design in the Manual For Streets even has a people-first hierarchy.
Still, despite all this we are not creating as many people-friendly places as we should.
We are not creating enough healthy places that ensure we live well and happily, not enough child-friendly places that allow children to play and explore safely and not enough streets that encourage us to walk and cycle.
The campaign 'Making people-friendly Places', broadly 25 years after Francis Tibbalds published his seminal book, aims to focus again on people as the centre of planning, design and engineering. We hope to focus minds, persuade and inform and I hope it will get traction if we are serious about making people-friendly places.
Please do get involved and sign up to the forum at: People-FriendlyPlaces.org
I really look forward to hearing your views and input as part of "The Conversation" and working out together how we can do a better job 'making people friendly places'.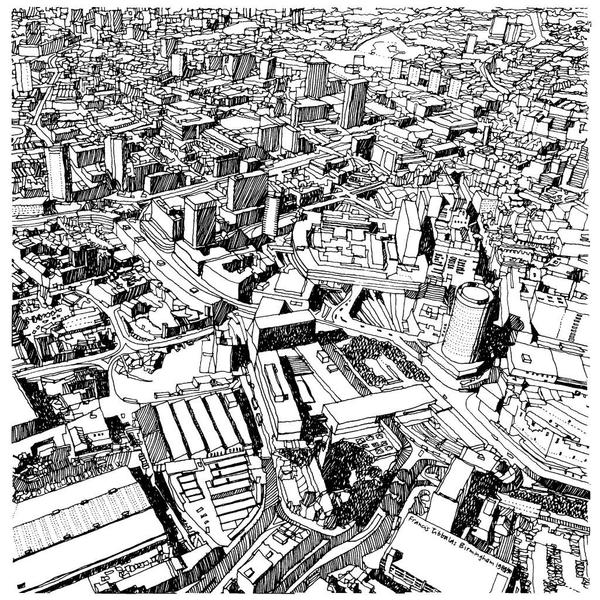 Related Updates
Stay In Touch
Sign up to our Newsletter
Subscribe to our newsletter to receive updates about making people friendly places.