Reflecting on our Annual Study Trip - Cambridge 2019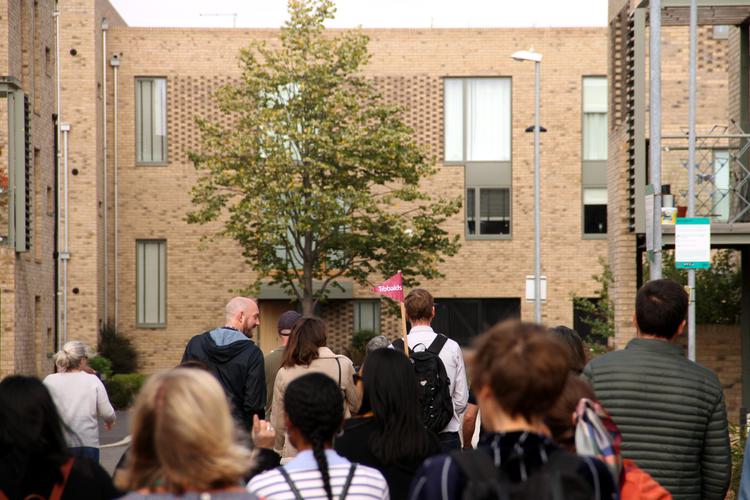 Darren Smith, Studio & Marketing Manager at Tibbalds, reflects on our annual study trip to Cambridge in 2019.
Each year, usually in September, Tibbalds invites all its staff on a social study trip. The trip provides an informal space for members of staff to socialise outside of the office while learning about the urban design, town planning and architecture of other cities and areas around the world. In the past trips have included cities such as Marseille, Liverpool, Berlin, Newcastle, Stockholm, Margate and Madrid.
This year the Tibbalds annual study trip was to Cambridge in East Anglia. Cambridge is a city on the River Cam, home to the prestigious University of Cambridge, dating back to 1209. University colleges include King's, famed for its choir and towering gothic chapel, as well as Trinity, founded by Henry VIII. The city is well known for the towers, spires and steeples of the colleges housed within the city.
However, we were not in the city to visit the architecture of its ancient colleges. We were in the city to visit the vibrant and modern architecture of Great Kneighton, Eddington and the evocatively named Marmalade Lane.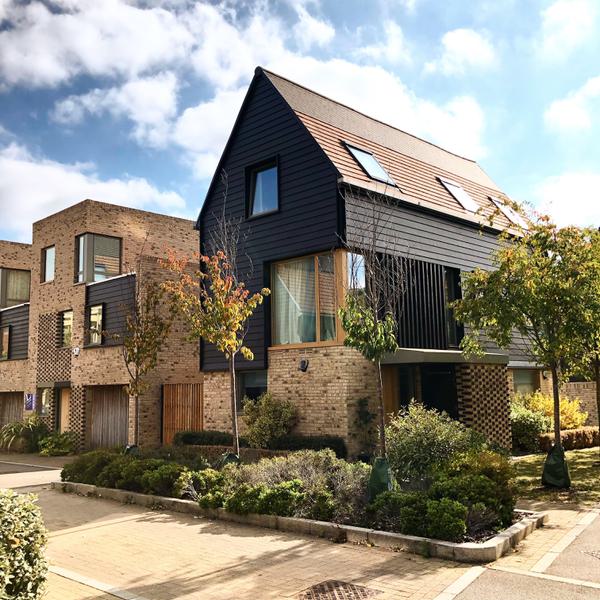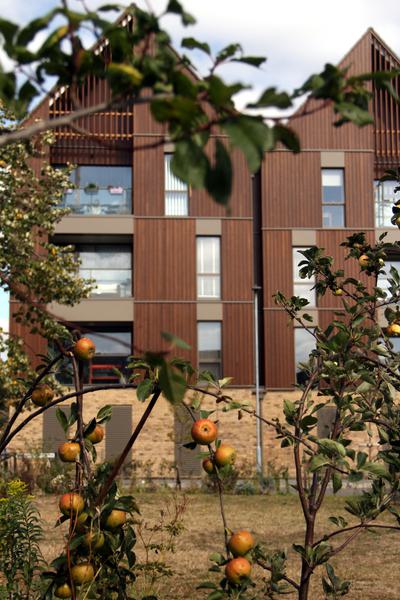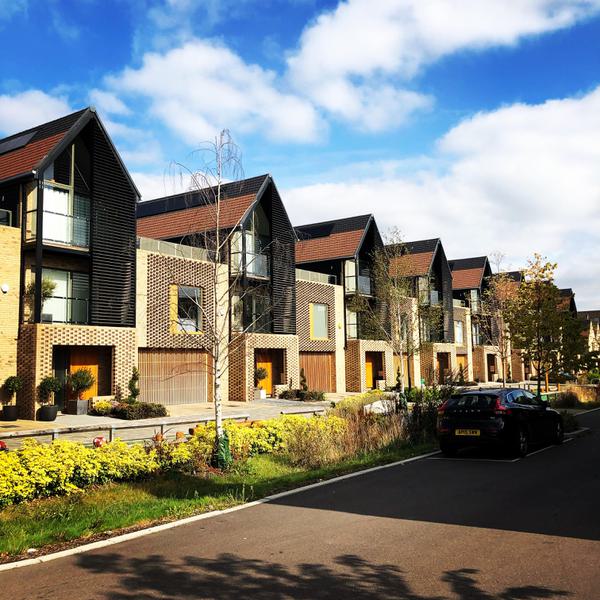 Our first stop was at the Abode development in Great Kneighton, by Proctor and Matthews Architects, where we met Jon Brookes from the Greater Cambridge Shared Planning Service who showed us around the scheme. Built on the former Clay Farm site, Abode at Great Kneighton is a key part of a major new housing and mixed-use development in South Cambridge. At the entrance to the scheme stand two apartment marker buildings set within a formal and structured court – a reference to the urban form of Cambridge colleges. Together with new landscaping, the large formal 'Great Court', (with proportions and scale to match Trinity College) visually absorbs the existing highways infrastructure and provides a suitable gateway into the development. We passed through the 'Great Court' into the 'Green Lanes' zone which seeks to create a village atmosphere and provides a range of homes for both private and affordable tenures. The houses sit within private walled gardens and generously-planted shared spaces. The black timbered dwellings (a reference to local agricultural typologies) establish loose clusters of homes surrounded by well-established planting.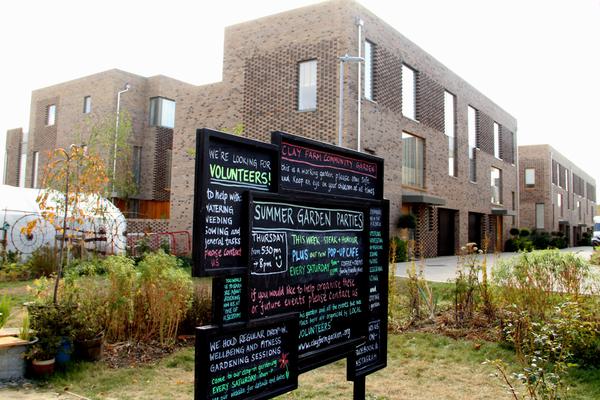 The Abode development neighbours the Aura development by Tatehindle Architects where Jon Brookes continued our tour. Aura delivers 229 homes over 5.2ha. Situated between Trumpington and Addenbrooke's Hospital, this new community will knit into the surrounding countryside and existing residential areas and form strong links with the city. The aspiration is to create a new sustainable garden suburb located within Cambridge's southern fringe. The design is organised within an urban framework of streets and landscaped squares. Large contemporary homes take advantage of the leafy environment with smaller intermediate townhouses and courtyards creating a buffer between the streets of apartment buildings and larger closes that nestle between the existing hedgerows and mature trees.

On departing Aura we said goodbye to Jon Brookes, our guide, and after lunch in Grantchester, moved onto Eddington. Eddington is a new district commissioned by a joint venture created by the University of Cambridge and Cambridge City Council, just two miles north west of Cambridge. The district includes a primary school, community centre, post-graduate student accommodation, university and college worker homes, and a market.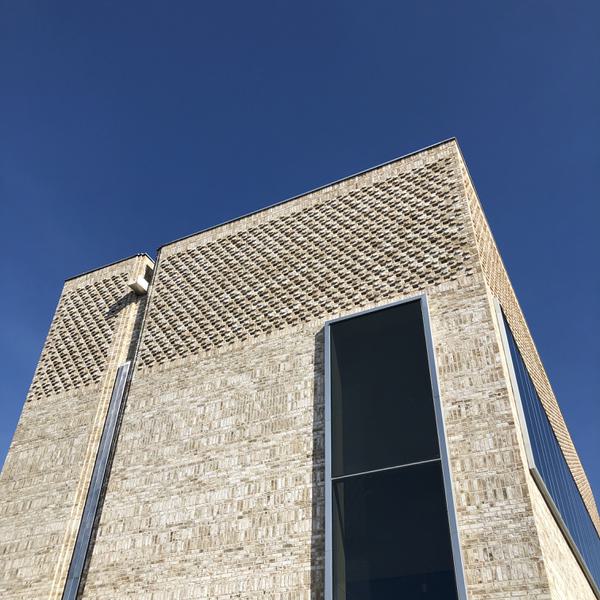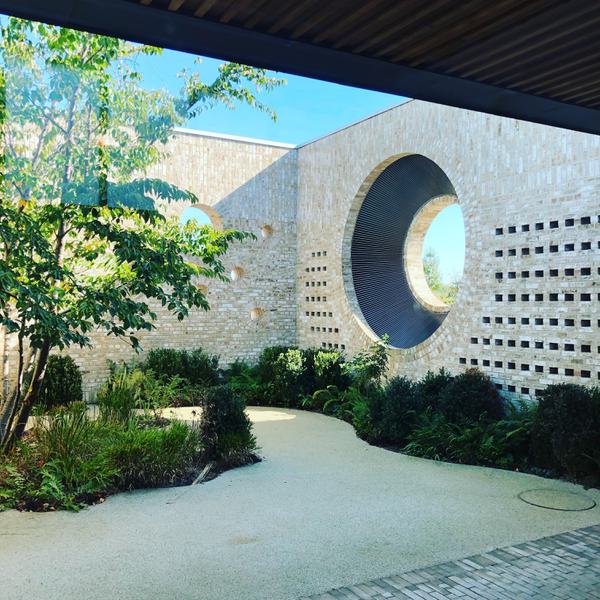 We started at the Storey's Field Centre, an impressive landmark that is a state-of-the-art community centre and performing arts venue designed by MUMA Architects. Overlooking green open spaces and the urban heart of Eddington, Storey's Field Centre is the civic heart of the community. Three main rooms of varying sizes are available for the community to use. The acoustics for the main hall can be adjusted to suit a range of events, from a film screening, or live music events to theatre and performance pieces.

The building features striking purpose made brickwork, a soaring spiral staircase, pinhole windows that mark the star constellations of Aquarius and Gemini, and waterfall gutters. With its high-ceilinged cathedral-like hall and capacity for 180 people, the community centre also features a calming courtyard garden. Many of our team felt that perhaps Storey's Field Centre should have won the 2018 RIBA Stirling Prize for which it was nominated!
Once we finished our visit to the Storey's Field Centre it was time to enjoy the warm September sunshine and walk around the Eddington development. We saw a mix of new apartment blocks, mews houses and villas, designed as student, key worker, affordable and private housing. Architectural practices working on the scheme include Maccreanor Lavington, Marks Barfield Architects, Mecanoo, Mole Architects, Stanton Williams, Wilkinson Eyre, and Witherford Watson Mann.
With our walk around Eddington complete, we started the final leg of our day trip with a visit to Marmalade Lane, Cambridge's first cohousing community. Frances Wright, a resident of Marmalade Lane gave us a tour of the community.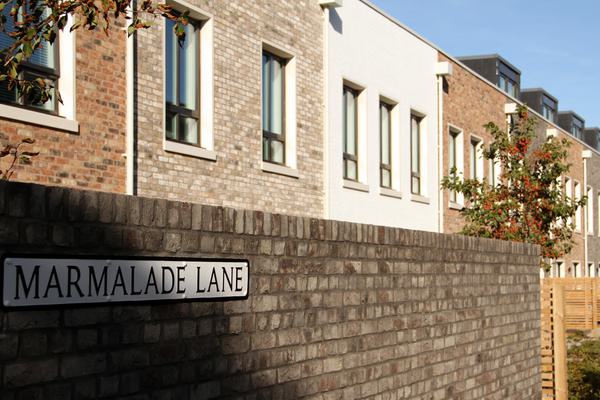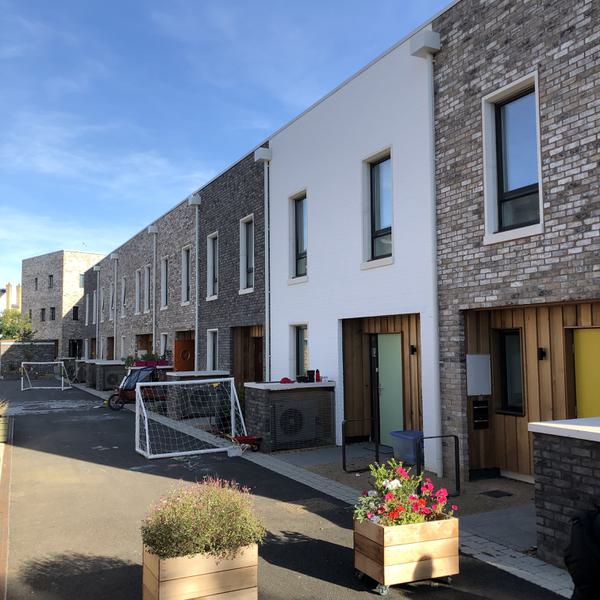 Designed by Mole Architects, Marmalade Lane is a sustainable neighbourhood of 42 homes with community facilities and shared gardens. The development centres around The Lane, a child-friendly, car-free street, which is a shared space encouraging interaction between neighbours of all ages.

As well as housing, Marmalade Lane offers a mix of shared facilities which make cohousing work. These facilities include a workshop which residents can use for hobbies or activities such as bike repairs and repairs to community assets like washing machines; a car; and a large south-facing garden incorporating areas for relaxation, play and food-growing. The shared facilities also include The Common House.
The Common House provides a place for residents to socialise, host guests and eat together. It includes a large catering-standard kitchen, laundry facilities, living room with wood burning stove, library, children's playroom and flexible spaces for meetings and wellbeing classes. It also includes guest bedrooms that are bookable by residents.
The visit to Marmalade Lane sparked a lively and interesting debate amongst our team about the merits of living in a cohousing scheme. There was a 50/50 split of those that would like to fully embrace the spirit of a cohousing community, given the opportunity, and those that felt it wasn't quite for them. We all agreed that it is important for all residents of a cohousing community to fully embrace the community spirit and participate in the group activities and ideals of the community!
After a full day of walking around three really interesting new areas of Cambridge in the sun, it was time to head into the city centre for a lovely dinner at Parker's Tavern, before leaving Cambridge and heading back home.
Related Updates
Stay In Touch
Sign up to our Newsletter
Subscribe to our newsletter to receive updates about making people friendly places.