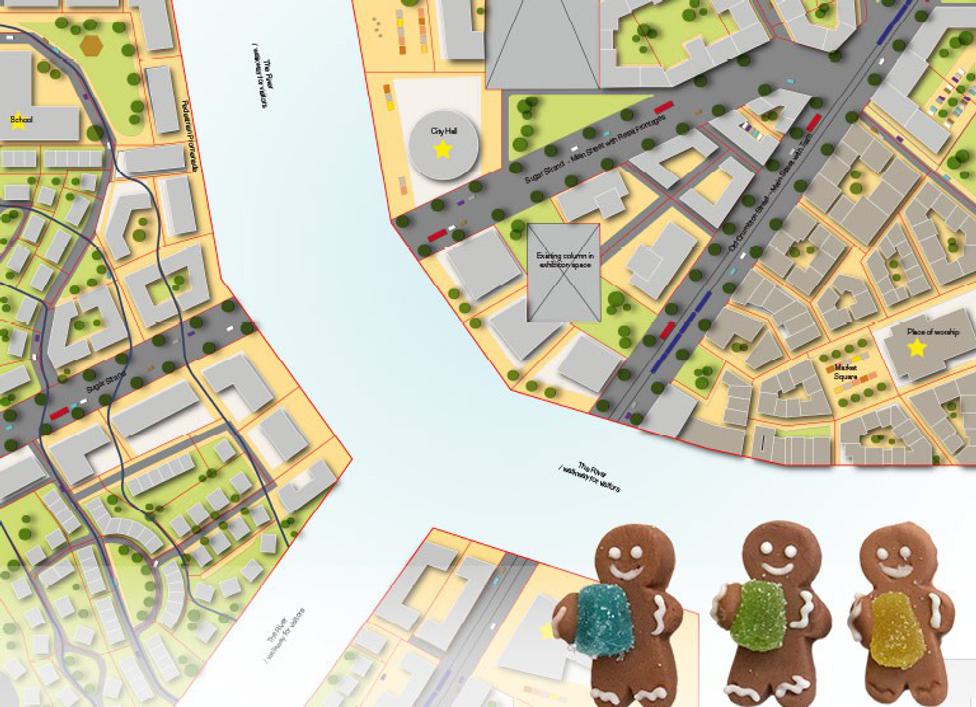 Tibbalds Masterplans London's first Gingerbread City for the Museum of Architecture!
Last night, Hilary Satchwell, Director of Tibbalds opened the Museum of Architecture's Gingerbread City which was masterplanned by Tibbalds.
Tibbalds is very excited about making places and cities and particularly making them out of Gingerbread! From the moment the Museum of Architecture's Gingerbread City was announced we knew that it was something we wanted to be involved with.
The Gingerbread City brings together all sorts of things we are very passionate about at Tibbalds:
making good places, in particular great streets and a variety of uses including housing;
working with lots of different architects, designers, landscape architects and other members of the team to create good places; and
the opportunity to masterplan from scratch, to write planning policy and to formulate design guidance that encourages good design and distinctive character.
Most importantly, it is also about broadening the discussion about what makes a good place and encouraging those not normally involved in architecture, design or construction to think a bit more about where they live, or where they work and how it impacts on them and others around them. For example:
How does it make them feel?
How do they think Cities should work?
What should they contain?
Hilary Satchwell said of the Gingerbread City:
"The Gingerbread City reminded me very much of a really interesting idea, that I have always loved, that the late architect Martin Richardson talked about and that I think about a lot, which is the idea that good places should be thought about as bread and cake.
Public buildings, active uses, train stations are rightly cake and should have all the qualities of a good cake, and be as decorative or attention grabbing as necessary. But the housing shouldn't be cake. The housing is bread and what we need to aim for in housing is lovely artisan baked sourdough rather than that squishy plastic bread that has to contain lots of additives to make it palatable.
The brilliant team at Tibbalds had such fun creating the gingerbread city masterplan, the character areas with their fantastic names, exploring the different themes, creating the streets and the uses activities. This included referencing other cities, historic areas, spaces and landmarks.
We have also really enjoyed thinking about 'ingredients' of the city, as outlined as part of this exhibition. We have identified these as:
Community
Economy
Environment
Health and well-being
Transport
Townscape and character."
The Gingerbread City is open daily from 10am to 7pm from 7th to 22nd December. Entry is free and the exhibition is located at:
The Museum of Architecture
10 Thurloe Place
London
SW7 2RZ
Nearest tube stations include South Kensington and Knightsbridge.
Related Updates
Stay In Touch
Sign up to our Newsletter
Subscribe to our newsletter to receive updates about making people friendly places.