Design Codes as a tool for delivery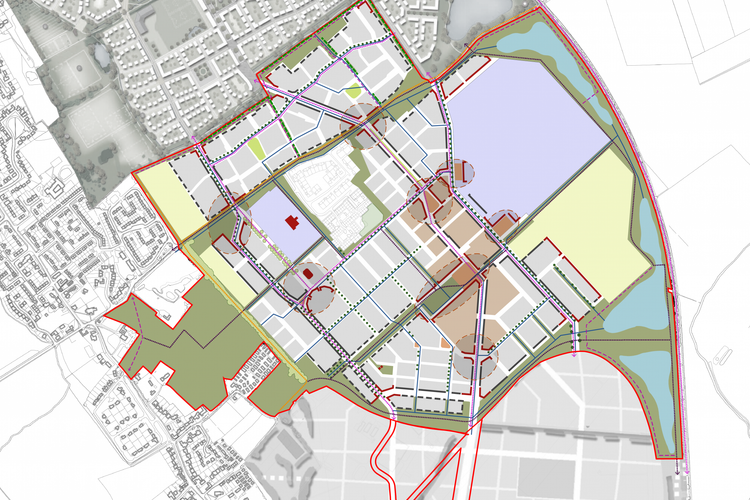 Tibbalds Planning and Urban Design has recently been appointed by the HCA to develop Design Codes for Phase 2 of the Northstowe development near Cambridge.
The Design Code will build on information contained in the outline application and deliver a comprehensive guide that will determine the aesthetic of the second phase of development, including street types, public realm and typologies, and approaches to mixed-use town centre development.
Tibbalds has previously produced Design Codes for the Great Western Park urban extension and is experienced in masterplanning on former military sites, including most recently the Shorncliffe Garrison site in Kent. It has also produced a practice manual on design coding for the DCLG.
Here, Katja Stille, Associate Director at Tibbalds talks further about the importance of Design Codes to large scale developments in particular – both in terms of maintaining quality of design and as a tool for delivery.
What is a Design Code?
Often overlooked during the development process by those who haven't used them or seen the benefits before, Design Codes are an important tool for delivery.
They are practical documents that set the design principles and requirements for a new development. They instruct the work of architects, engineers and developers and help to deliver high quality developments by providing clarity, from the outset, on the ethos of the development and the standards required of everyone.
At a basic level, a Design Code combines text and diagrams explaining the precise requirements for the physical elements, streets, buildings, landscape and infrastructure of developments.
Good Design Codes, though, are based on a specific vision for an area and provide guidelines that are essential to creating a good place, advising on the design of the whole development, not just streets and buildings.
They streamline the planning and development process because all parties know what is expected of them and have agreed to follow the codes' guidelines.
The first codes were actually introduced in the UK in 1667 to guide the rebuilding of the City of London following the Great Fire and have been used ever since in a number of high profile and award-winning housing developments. They are already used across many European countries to control the development quality, including Germany, the Netherlands and France.
Who can develop a Design Code?
Producing a Design Code is complex and many different aspects relating to the design and construction of infrastructure, streets, spaces and buildings need to be taken into consideration. The author must have knowledge not only of good placemaking principles, but also the technical and commercial requirements of building a large new settlement, such as highway requirements, waste, utilities and phasing. They will therefore need to take specialist advice from highway and civil engineers, as well as landscape architects, to complement their own skills.
Who else should be involved to make it as useful as possible?
A collaborative process is as important as the final document. The process should involve local planning and highway authorities, public bodies that will adopt infrastructure and streets, technical consultants, the client and where appropriate, other stakeholders and the general public.
Why does Northstowe need Design Codes?
The overarching aim for Northstowe is to create a successful new town with character and longevity that meets its residents' needs. The development will be delivered in phases and is likely to take over 15 years to complete, with a variety of partners involved in the process.
Because Northstowe Phase 2 will be built via a range of different delivery mechanisms, including the sale of parcels of land to national housebuilders or small local developers, coherence is essential. The HCA could even decide to build some parcels of land themselves in the form of Starter Homes, or provide serviced parcels to individuals for them to design and build their own homes.
Having a Design Code in place will enable everyone to ensure that the overall development delivers a consistently high level of quality and that, ultimately, all its elements come together effectively to meet the overall vision for the town.
The Design Code will also offer the HCA the flexibility to adjust its delivery methods to suit the market as it evolves over the coming years without compromising on quality.
The overarching guidelines set out in the code will make sure that parcels built by different developers, at different stages, meet the quality targets and create a cohesive and distinctive town.
How is it going to be used?
The code will be prepared by the HCA and Tibbalds, supported by Chris Blandford Associated and Tyrens UK, before being approved by the local planning authority, South Cambridgeshire District Council (SCDC).
The final Design Code will instruct all future architects and designers when delivering future development phases, help the SCDC to assess detailed planning applications in the future, and speed up the delivery phases at a time when addressing the housing shortage is one of the UK's major challenges.
Katja Stille is an Associate at Tibbalds Planning and Urban Design.
Related Updates
Stay In Touch
Sign up to our Newsletter
Subscribe to our newsletter to receive updates about making people friendly places.